Helen Joao Apana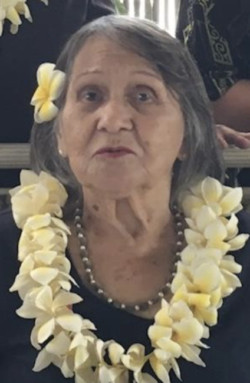 Helen Joao Apana, 97, passed away peacefully at her home in Kapaakea, Molokai, on Oct. 4. She was born Nov. 9, 1925 in Kualapuu, Molokai.
Helen was preceded in death by husband Donald Wah Bung Lau Apana, parents Raymond Francis Joao Sr. and Gussie Maikani Iaea Joao, maternal grandparents Reverend Isaac Daniel Iaea and Hannah Keahi Pakamia Iaea, and paternal grandparents Manuel Farinha Joao and Julia Correa Joao. She was the last survivor of her seven siblings and last surviving grandchild of Manuel and Julia.
She is survived by her five daughters – Linda Reyes Napoleon, Beverly Mapuana Apana, Abegale Kilani (William) Akutagawa, Dawn Aloma (Ken) Nakayama and Nola Haunani (Daniel) Reilly, 16 grandchildren, 30 great-grandchildren, 14 great-great-grandchildren, and many beloved nieces, nephews, grandnieces and grandnephews.
She was raised on the ranch at Kipu, Molokai. Her dad was the Molokai Ranch Foreman and her mother was a nurse at Shingles Hospital in Hoolehua and later Molokai General Hospital. She attended Holomua School at the Kualapuu Junction and Sacred Hearts School in Honolulu. She loved riding horses, and had her own horse, Firefly.
She worked at the Sheraton Molokai for 10 years as a PBX Operator and then at the Colony Resorts on Molokai for 14 years before retiring in 2001.
Services will be held on Saturday, Oct. 21, 2023 at the Kalaiakamanu Hou Congregational Church in Kalamaula. Family viewing will be 7-9 a.m., public viewing 9-11 a.m., with services at 11 a.m. A burial will follow at Kapaakea Cemetery.