Heavy Lifting
Na Pu`uwai hosts first Fitness Expo.
Amid grunts, cheers and dripping sweat, Molokai's strongest men and women showed what they are made of last Saturday at Na Pu`uwai's first Fitness Expo.
Around 200 people filled the Fitness Center's parking lot and grounds to watch the competitions and learn about fitness, nutrition and health.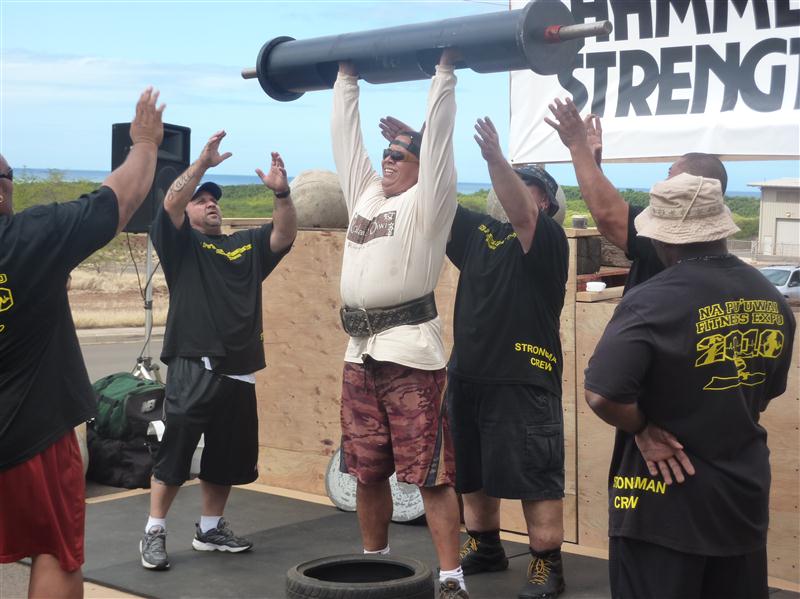 The main events of the day were the Strong Man and Strong Wahine contests, which challenged contestants to lift, drag, push and even flip weights and tires – some twice their body weight. These contests were previously held at Na Pu`uwai's annual Health Fair in the winter.
After a day of bulging muscles and strained faces, Na Pu`uwai's Peter Pale, the defending champion, won the heavyweight division. Shane Adolpho bested the lightweight division and Kelly Rawlins came out on top in the women's.
The Expo kicked off early in the morning with a 10K run and walk. Kevin Dudoit finished first overall while the top women's finisher was Sue Forbes-Kikukawa.
There were also weight lifting and bench press contests, luring members of the crowd to test their strengths, and even kids' push-up contests. Inside, blasting music provided a jumpy soundtrack to the aerobics classes that ran throughout the day.
Not to be confused with the Health Fair, which will continue to be held in the winter, the Fitness Expo was organized to reach out to the community and "expose our attitude" – a combination of fitness, health and nutrition – said Pale, gym manager.
"Na Pu`uwai's goal is to get more people thinking that way," he said.
Pale said many of Na Pu`uwai services are underutilized and events like this let people know more about their facilities.
The Expo, six months in the making, hosted booths on physical therapy, personal training and nutrition, which offered samples of salads and smoothies with banana, cantaloupe, pineapple, radish and zucchini.
"If you don't have it out, no one knows what it tastes like!" said Josette Dudoit, a dietician at Na Pu`uwai.
At another booth, workers did blood pressure tests. While so much of fitness focuses on the outside appearance, this may not reflect actual health, according to Susan Ka`ahanui, a community health worker at Na Pu`uwai.
"I've seen people who are really skinny and fit but have high blood pressure, so it's good to have a check," said Kaahanui.