Heartfelt Mahalo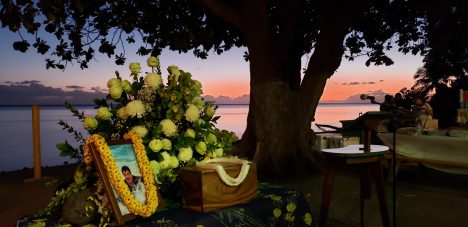 A belated but sincere and heartfelt mahalo from the Riel-Mollena family goes out to everyone who attended our beloved Philip Gideon Marcelo Riel's Sunset Funeral Service on Sunday, Feb. 2.
Whether you stopped by briefly to extend your aloha or stayed and attended his Sunset Funeral Service, your loving support, words of encouragement and generous spirit was greatly appreciated!
To those of you who were not able to attend, we felt your love and support through your home visits, flowers, phone calls, FB/IG/text messages, personal conversations, beautiful cards and delicious meals.
We especially want to thank the family members and friends who travelled from the mainland, interisland and even a foreign country to support us with their love, hugs, kisses and tears.
Mahalo also to Makani Kai Air, Kalamaula Homesteaders Association, Molokai High School Class of 1997, Molokai Middle School Ohana, Akaula School, Ikaika Apana, Kiani Apana, Cody Kaupu, David, Laverne, Leinani and Tita Ortega, Glenn and Kalei Costa, Michael, Joie Mae and Ian Coelho, Jared and Wendy Mollena and ohana, Dinah Caberto, Ikaika Mollena, Dexter and Gayle Masuda, Laura and Duran Born, Laura's mom "Linda", Cheryl Davis, Carl Adolpho, John Givens, Karen Larsen, Val Farm, Barry Wright, Eric, Miller and Michele Maioho, Porter Hodges, Sonny and Laila Pastrana, Kehau Ward and ohana, Manae Goods and Grindz, Big Daddy's, Randy and Desiree Cabreros and ohana, Cerrese (Mollena) Esteron, David and Sharolyn (Mollena) Na`o and ohana,
Including the loving hands who provided the delicious refreshments…As well as the hardworking hands who helped with the set up and clean up of Kiowea Beach Park.
Everyone's love, kindness and support has left a lasting imprint on our hearts and continue to be of great comfort to our family as we strive to move forward one step at a time without our beloved Philip Gideon Marcelo Riel.
Grief is one we cannot avoid…Yet, it is not a place where we live. Grief is not about the lack of faith…It's simply the price of love!
Fondest Aloha,
Ming-Toi Mollena-Riel aka Olivia