Healthy Living
MGH showcases services at annual health fair
It had all the trappings of a county fair – games, music and crafts for the keiki. Did you enter the raffle? Try the shave ice? Schedule your annual mammogram?
Wait, what?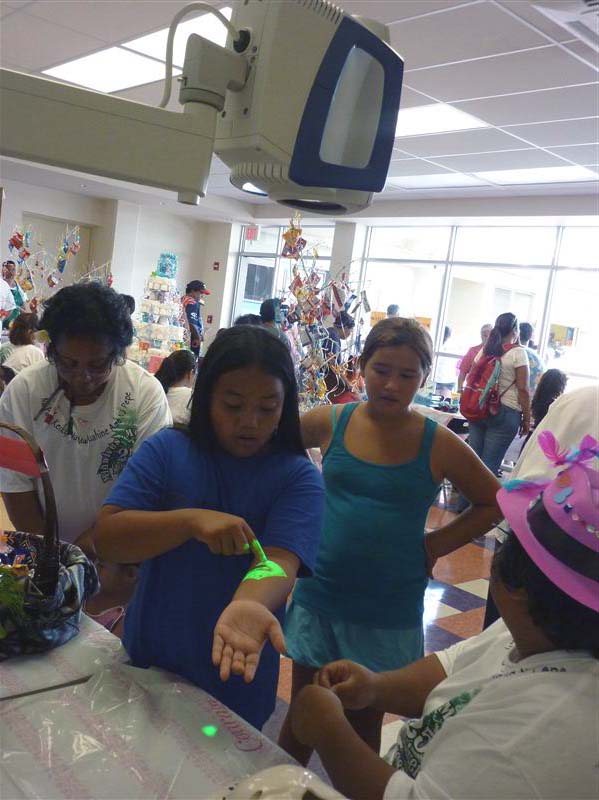 Far from its sterile patient rooms and subdued waiting area, Molokai General Hospital (MGH) lit up on Saturday for its annual women's health fair. This year's fair was expanded to include general health care, with booth after booth offering information on infant care and diabetes to smoking cessation and the risks of high blood pressure.
"We want people to come up here and feel comfortable," said MGH President Janice Kalanihuia.
MGH's Women's Health Center celebrated its 25th anniversary this year. Staffed by two Certified Nurse Midwives (CNM) and three office administrators, the center offers women preventative and regular health care from family planning to prenatal care and delivery.
The center opened up the opportunity for Molokai women to deliver their babies on island. Molokai's delivery count to date is 1,484 babies.

Joan Thompson, a CNM at the center, delivers babies an average of five times per month. She said the center is an integral part of the community.
"Nurse midwifery is the perfect answer to the needs of women's health care," she said. "especially in a rural community where it's difficult to support an OB/GYN physician."
A Higher Level of Care
Saturday's fair was also a chance to showcase the range of services MGH offers.
"Everybody thinks we're a small little hospital, but when they come and see the capabilities we've got, they're like, 'Wow, you've got that?'" said Dino Fontes, director of nursing at MGH.
At the nursing booth, Fontes showed off an AutoPulse machine – a band that wraps around a patient and applies chest compressions. Nearby, curious keiki tested out a VainViewer machine, which uses near-infrared light to locate veins under the skin for easier IV application.
"If you look at Kona, Maui, Hilo, we have things they don't," Fontes said. "We're a small hospital so we rely on technology."
In January, MGH will become a level 4 trauma center, eligible to receive funds from the state trauma fund. (Level 1 is the top rating with trauma surgeons and specialists on call; level 4 is a modified trauma center.)
The hospital already has the equipment and staff to qualify as a level 4, it's just a matter of making it official, Fontes said.
MGH is also looking to open an intensive care unit that would be connected to Queen's Medical Center in Honolulu by camera, allowing patients and their families to stay on island and still be treated by specialists.
Cameras are already in emergency rooms, and CAT scans and digital X-rays can be sent instantly to Queen's for consult from trauma and neurosurgeons.
"We're looking ahead and anticipating what we need to do next," Fontes said.