A Healthy Choice
Participants graduate to a healthier life.
It wasn't easy. Trading meats, caffeine and an array of sweets and fats for healthy vegetarian alternatives almost 'seemed impossible,' and even drastic for some. But within one month, 45 individuals defied the odds and overcame their personal dilemmas to make a complete lifestyle change.
Beginning Feb. 7, a few dozen participants of Molokai's Coronary Health Improvement Project (CHIP) began a health-conscious diet and exercise routine over the course of four weeks.  They underwent an 'educational experience' that offered stimulating lectures, peer discussions and cooking demonstrations four nights a week to further prevent risks of heart disease, high blood pressure, adult onset diabetes, high cholesterol and obesity.
Nalani Paleka, one program member who witnessed profound results, had seen more lows than highs in the dieting realm, but wasn't willing to give up just yet.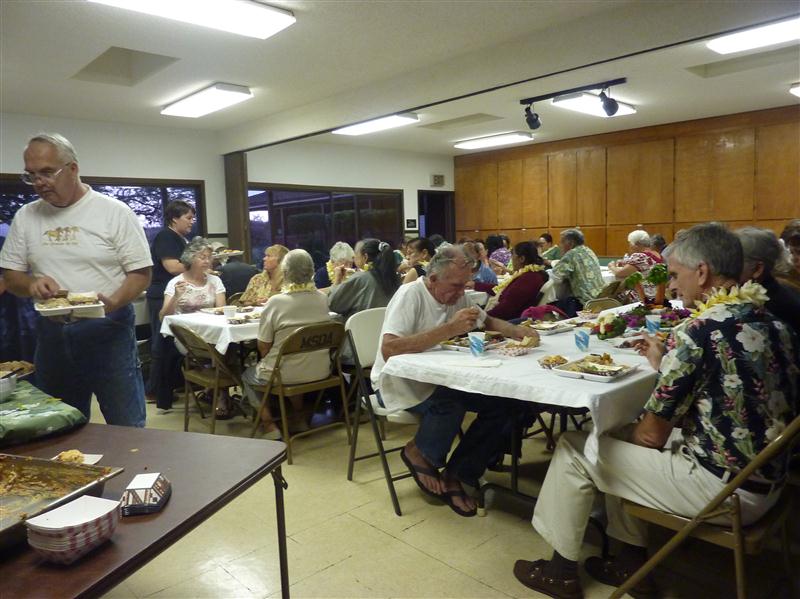 committed to two things – change diet and exercise," Unglaub said. "If they did this, and stuck to it, they got results."
While some found resolve in lower blood pressure, cholesterol and weight, others noticed significant improvement with their diabetes – something Shirley Nanod is quite familiar with.
Besides diabetes, Nanod also suffered from hypertension, got treatments for hypertension, and admitted the first week of dietary change was the hardest.
"I love coffee, and I had to give that up," she said. "I went through one week of caffeine withdrawals. I also really like meat – we couldn't eat anything with a face."
Nanod said she was always more busy than active, and added walking into her daily routine. She lost 16 pounds in one month, and noticed a significant drop in blood pressure and cholesterol, as well.
"I have so much more energy now," she said. "Before I loved food, now I eat to survive."
The Road to Change
CHIP is an internationally-recognized program developed by Dr. Hans Diehl, which aims to reduce and even reverse disease risk factors including atherosclerosis, the No. 1 silent disease killer that narrows the arteries. Through the adoption of better health habits, the program assists with the lowering of blood cholesterol, triglycerides, and blood sugar levels by reducing excess weight, enhancing daily exercise and improving dietary choices.
Molokai's CHIP program began with a comprehensive heart screening which detailed risk factor levels of the participants. Immediately following the program, the heart screening was conducted again, and individual results were shared at the group's graduation ceremony at the Seventh-day Adventist Church on March 11.
"We're very proud of this group," said Unglaub. "They made a big commitment and got good results. The main thing now is to stick with it, and they will."
Loke Gandeza, another program member, said she plans on keeping in touch with her fellow peers and continuing with her new healthy lifestyle.
"I got a long way to go," she said. "But at least I'm going."