Hawaii's Golden Age of Orchids
Community Contributed
By Glenn I. Teves, UH County Extension Agent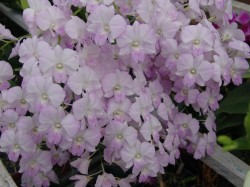 The first orchids made their way to Hawaii around the mid-1800s via Asia, and by the end of the 19th century, wealthy individuals and even Hawaiian royalty maintained orchid collections. Soon, the average Hawaii resident learned they could grow orchids without effort in the perfect climate.
In late 1945, members of the 442nd Infantry returned home from Europe as decorated heroes, and these Nisei or first generation Hawaii-born of Japanese ancestry took up the growing of orchids as a hobby. Many were self-taught, and took orchid production to another level as they learned new technology. A major breakthrough was the growing of orchid seeds in flasks refined in Hawaii by Reverend Masao Yamada.
Early beginnings included the use plant-based nutrients such tomato juice, and banana mixed in seaweed extract called agar. Hawaii-born Dr. Toshio Murashige of University of California, Riverside, moved micro-propagation to the next level with the development of Murashige & Skoogs formula and is still used today. Soon, orchid labs sprung up throughout Hawaii, and almost every valley in Honolulu had an orchid nursery and laboratory.
Today, orchid innovators such as Kirch, Kamiya, Kirsch, Moir, Oka, Takiguchi, Takafuji, Miyamoto, Kodama and Noa are legends in the orchid world. Hawaii became the epicenter of orchid breeding in dendrobium, vanda, cattleya, phalaenopsis, oncidium and other genera. Soon, orchid breeders and hobbyists converged on Hawaii to buy its special orchid plants. Hawaii's isolation also spawned unique breeding directions including more vibrant colors and patterns that were not developed elsewhere.
In the book "American Cattleya," it notes Hawaii's contribution to orchid breeding. "By freely sharing pollen with each other, Hawaii hybridizers accomplished what required enormous wealth in England and the Mainland. When nurseries on the mainland were jealously guarding each grain of pollen, many of the great Hawaii hybridizers were sharing."
What Hawaii growers lacked in money they gained by networking and sharing plants and pollen with each other, and were an excellent example of interdependence in this isolated outpost in the middle of the Pacific. Every visit to the mainland and elsewhere by Hawaii growers meant new orchids cultivars were headed to Hawaii. Hawaii's proximity to Asia, home of many orchid species, also played an important role in the growth of Hawaii's orchid production.
In the early 1950s Dr. Haruyuki Kamemoto, a graduate of Cornell University with a PhD in Plant Breeding, was hired by the UH College of Tropical Agriculture and Human Resources to develop this industry. He focused on understanding the genetics of dendrobium orchids and anthurium flowers, and in 1966 embarked on the development of dendrobium as a cut flower. Born and raised on a flower farm in Manoa Valley, he had a keen understanding of flower production.
Kammy, as he's affectionately known, had the ability to network with growers throughout the state that proved to be a key advantage, allowing him access to some of Hawaii's best dendrobium cultivars. A key breakthrough was the breeding refinement of amphidiploids, a type of tetraploid with two sets of chromosomes from each parent. When crossed with another amphidiploid, they produce progeny that are very uniform, which is rare in nature. Normal plants have one set of chromosomes from each parent, called diploids, just like us.
In the next installment, I will discuss the Hawaii orchid industry today.