Hawaiian Youth make an Impact in California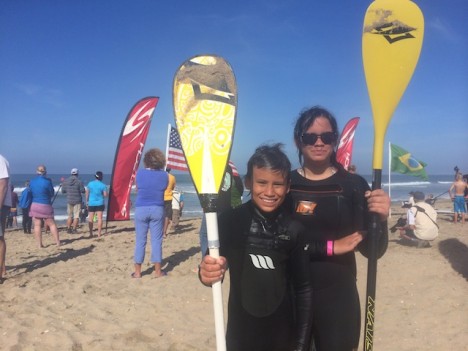 Community Contributed
By Clare Seeger Mawae
Josie and Alex Mawae just came back from California, having participated in two Stand Up Paddling events. Young competitors from all over the country as well as Brazil headed to Orange County to participate in the second annual Junior Pro Sup Fiesta at Bolsa Chica State Park on Sunday, May 4. This was the biggest youth event in the World that set the standards for the future of the sport.
The day, before many of the kids participated in Stand Up For the Cure at Newport which raised money for breast cancer. In that day alone, 15 lives got saved from the free cancer detection clinics with Skin and Breast Cancer. Josie and Alex managed to raise money on Molokai, which helped the organizers that included the Schweitzer family from Maui reach their goal of $100,000. This year Stand Up for the Cure exceeded all expectations with over $125,000 raised for a one day event.
The Junior Pro SUP Fiesta was all about youth inspiring youth and this event brought kids as young as 6 years old to battle it out in the surf with the different age group divisions to the high level of Top World Class Juniors in the Junior Pro Division. SUP Fiesta 14 made an impact and statement to the paddling community of what can be done and to bring new faces into the world's fastest growing water sport.
Josie had been out of paddling for about a year and a half until last month and she did amazingly well given her absence from the water. Josie finished ninth in the surf race, making it to the finals in the surf competition placing her sixth. Alex was the dark horse from Molokai, taking second place in the Surf race in his age division and fourth in the Surf competition. Alex's results were very credible considering he was up against some strong mainland competitors. Alex hopes that this result will encourage more kids from Molokai to start paddling. The other islands have a strong group of youth and it would be nice to see Molokai bring out talented young ocean athletes into the world of SUP.
Hawaii did great with 14 youth representatives from Kauai, Oahu, Maui and Molokai out of 74 kids, some of whom placed with top finishes.
Josie and Alex were fantastic ambassadors for Molokai and hope that they can perhaps lead the way for other youth to take up the sport of paddling.