Hawaiian Airlines Now Hiring for Molokai
Hawaiian Airlines is now hiring Molokai personnel for its new flight service, `Ohana by Hawaiian, which will serve Molokai and Lanai later this year. Positions will include part time ramp service clerk/agents and a full time supervisor for ramp and passenger services. No start date for launching the new service has been released by Hawaiian, but Worldwide Flight Services, handling Molokai hiring, announced the local positions would tentatively start in mid-August.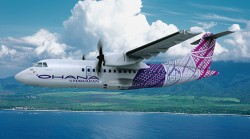 Ann Botticelli, Hawaiian Airlines senior vice president of corporate communications and public affairs, said two flights per day — one arriving and departing in the morning, and another in the evening — are scheduled for both Molokai and Lanai.
"We are so anxious to get started," said Botticelli. "But we have several hurdles to clear – including some FAA [Federal Aviation Administration] approvals – before we can set a firm date."
The neighbor service will be flown on ATR 42 twin turboprob aircraft, owned by a Hawaiian subsidiary company and operated by Idaho-based Empire Airlines. The company has signed a three-year memorandum of understanding with Hawaiian to maintain and fly the aircraft.
Meanwhile, Worldwide Flight Services is accepting applications for Molokai ground positions. A representative said she could not say how many jobs were available, but according to the company's posting on HawaiiJobEngine.com, one full-time position and nine part-time positions are open. The ramp service clerk/agents responsibilities will include loading and unloading cargo from aircraft, ticketing and passenger check-in, and other tasks relating to aircraft services. The supervisor will manage staff and oversee training and operations.