Hawaii Eye Doctors Offer Training in Myanmar and Vietnam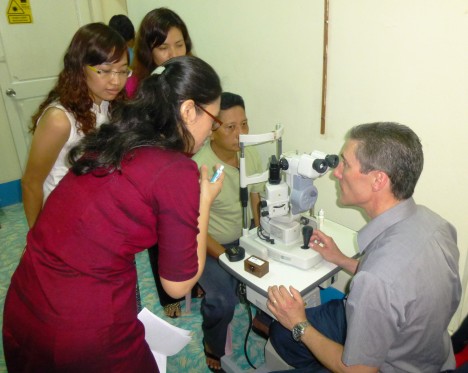 HEF News Release
Hawaiian Eye Foundation (HEF) conducted an eye surgical training program in Myanmar last month, the first western eye surgical training program in decades, following the country's recent opening to democracy. A team of nine volunteer ophthalmologists and two support staff, five of whom are from Hawaii, were led by John M. Corboy, M.D. of Molokai, President and Founder of Hawaiian Eye Foundation.
"We are really doing this for the patients of our Burmese and Vietnamese colleagues," said Corboy, founder of the HEF nonprofit. "They are the ones who benefit from the enhanced skills we impart to their surgeons."
The four-day training, conducted in partnership with Yangon Eye Hospital, was attended by about 50 Burmese eye doctors. A wide range of ophthalmic topics, including cataract, cornea, retina, glaucoma, and pediatric, were covered in lectures, patient consultations, and diagnostic equipment demonstrations.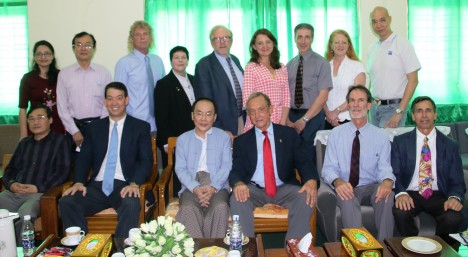 There is an urgent need for continuing ophthalmic training in Myanmar, and HEF was invited to return for another Myanmar Eye Meeting in 2015. Future meetings may be conducted in alternating years with the Foundation's ongoing Imperial City Eye Meetings in Vietnam.
Immediately following the Myanmar Eye Meeting, HEF faculty traveled from Yangon to Hue, Vietnam, to participate in the Foundation's fifth biennial Imperial City Eye Meeting.
This meeting is conducted in partnership with Hue Central Hospital, and was attended by almost 300 eye doctors from throughout Viet Nam. In addition to lectures, consultations, and diagnostic equipment demonstrations, the four-day training included individualized instruction in cataract surgery, operating under powerful microscopes on pigs' eyes.