Hau`oli la Hanau Kupuna
With almost seven centuries of knowledge and experience among them, seven women sat at the front of the Home Pumehana Senior Center last Friday night, draped in colorful lei and flowers in their hair. They were ready to celebrate. While it wasn't any of their birthdays, it was a birthday party for all of them, as dozens turned out to commemorate Home Pumehana's 90-year-olds in an end-of-summer bash.
"My goodness, there's so much effort that went into this," said Czella Donaldson, one of the honorees. "It's beautiful."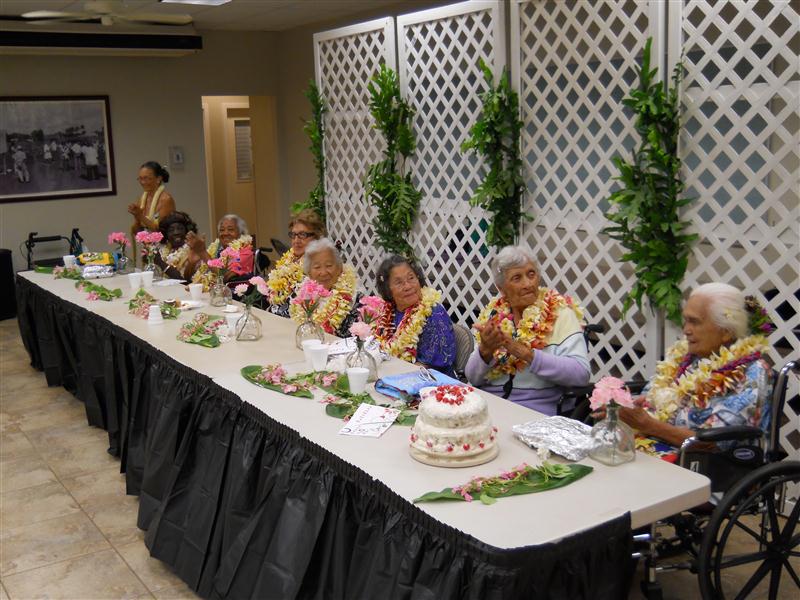 The birthday bash honored (pictured seated, from left to right) Donaldson, 90; Home Pumehana's oldest tenant, Lillian Spearman, 94; Viola Shover, 90; Chieko Mikami, 91; Mary Burgett, 90; Margaret "Maka" Joao, 90; and Julia Siu, 93.
"They talk about learning history in schools," said Home Pumehana Hui President Amy Skelton, who organized the event. "You cannot get more history than sitting with these women."
The women were presented with several gifts, including handmade quilts from resident Carolyn Havens. Entertainers Bertha Adachi and Nani Dudoit performed throughout the night.
Each of the women thanked Skelton, the organizers and the attendees for the colorful festivities.
"I enjoy each of the tenants here," said Mikami. Burgett later added: "I don't want to go back to living in Honolulu anymore – I love living here."