Harbor Ferry Terminal Project Completed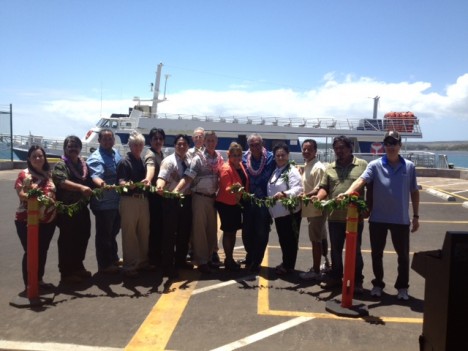 DOT News Release
A $9.1 million project to improve the Kaunakakai Harbor Gerry Terminal has been completed, the Hawaii Department of Transportation (DOT) and the Department of Land and Natural Resources (DLNR) announced last week.
Passengers using the ferry from Kaunakakai Harbor, Molokai, to Lahaina Harbor, Maui, now have an upgraded and modernized facility with an expanded passenger waiting area, upgraded restroom facilities, and a larger parking lot that allows for better traffic flow.
"This project demonstrates my administration's commitment to improving Hawaii's infrastructure across all islands, and is a great example of state departments working together to complete projects," said Gov. Neil Abercrombie. "The Kaunakakai Harbor facility is now more comfortable for ferry passengers and also safer due to the installation of a modern fire suppression system."
Improvements include a new and reliable fire protection system as well as an upgraded sewage system that replaces the need for the former septic tank.  To promote safety and efficient operations between ferry passenger operations and the commercial barge operations, a portion of the commercial harbor pier has been rehabilitated to allow for extra space between operations.  
"The upgrades made to Kaunakakai Harbor will provide both visitors and residents traveling between Maui and Molokai with a new and improved experience," said Sen. J. Kalani English, chairman of the Transportation and International Affairs Committee. "My colleagues and I at the Hawaii State Legislature understand how important it is to invest in our harbors, airports, highways and roads. We will continue to identify and appropriate funding for key transportation infrastructure projects such as this one that will improve the quality of life for everyone."
The $9.1 million project was funded with 80 percent Federal Transit Administration funds and 20 percent state funds.  This project is part of the state's investment in improving Hawaii's infrastructure for all residents and visitors.