Happy First Birthday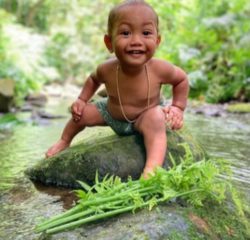 Here's a birthday shout out to one year old Oiwimainaainaaloha, son of Kaoli and Keani Kahokuloa of Molokai and Ewa Beach respectively and baby brother to sister Hilina'i.
Honoring him in the ancient Hawaiian cultural way of living through the first year, a birthday luau crowned the affair held on Saturday, July 2 at the Robins Homestead in Kamiloloa. Oiwi is also the grandson of Elea and Pulani Kahokuloa of Molokai and Danny and Manu Rivera of Oahu, respectively. Honored also to be his great grandparents are Molokai's own Cookie Robins-Kaopuiki and the late "Bla" David Robins.
The melodic voices of Unko Rick Schonely and Keahi Camara welcomed everyone
to pupus, and a feast for the ali'i. The decor was themed around dinosaurs, with game booths, cotton candy, and shave ice treats for the young at heart. Entertainment was presented by Atua Ohana including impromptu audience participation much to the delight of the eyes. Mind blowing performances of fire knife dancing by the honoree's 10 year old aunt and uncle Le'a and Loa and 13 year old aunty Kaipu had everyone on their feet. Rounding out the night with boogie down time was the performance of singing sensation Shardonay and the fantastic Molokai band.
We wish to take this time to thank Ke Akua and everyone for their blessings big and small, for their Hana Lima, all donations, flying in from off islands, seen and unseen in providing the means for Oiwi's celebration. Hauoli La Hanau, Oiwi! Mahalo Ke Akua, mahalo, mahalo, mahalo!
Cookie Robins-Kaopuiki