Hamakua Coffee Bubbles With Success
Acid-free coffee and bubble drinks were modern ideas on Molokai, but the family behind Hamakua Coffee had a modern approach to business. There wasn't a coffee bar in Kaunakakai last January, so the Hamakua ohana sold drinks at the 2012 Alternative Energy Festival and began a business that would serve the community and keep the family close.
Now the innovative business offers hot coffee and refreshing frozen drinks underneath their portable tent. They set up Tuesday through Thursday afternoons at UH Maui College Molokai campus. Friday and Saturdays the Hamakua tent is pitched in the empty lot between Kalele Bookstore and American Savings Bank. They also serve as a vendor at various community events.
With their mobile business model and novel bubble drinks, Hamakua Coffee's healthy and refreshing beverages have been getting rave reviews.
Cooling Off Around Kaunakakai
Kauluna`e Hamakua, one of the family members who runs the business, said Hamakua Coffee began by selling acid-free coffee made with ganoderma mushroom extract, which offers a number of health benefits. The coffee is also made with soy milk, which the family also keeps on hand to create blended drinks such as the Mocha Dream, the first frozen drink they created.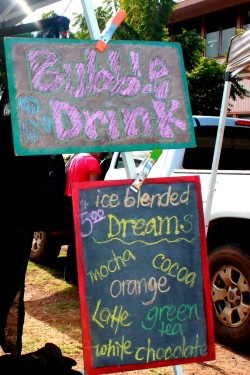 "The thing that got us into the business was the health factor," Kauluna`e said. "The healthy coffee makes a difference."
Noticing the unfulfilled market for fruity, frozen drinks and following their emphasis on health, the family gave smoothies a try. Kauluna`e said they soon found that fresh fruits were too expensive to stock regularly. But in the spirit of enterprise, they did not allow their frozen drink dreams to melt away with their smoothies.
And that's how bubble drinks came to Molokai. Hamakua's frozen drinks now include flavors like taro, banana and honey dew. The bubbles are actually popping boba – little balls that burst open with flavored juice – or tapioca pearls, which have a chewy texture. When customers visit the tent, they place their drink order along with their bubble flavor and soon receive their fresh-made drink.
Mahea Alcon is one of Hamakua's many frequent customers.
"Their stuff is awesome," she said as she ordered and learned the business accepts credit cards through an iPad app. "It's addicting, and it's original."
Although the bubble drinks get the most attention, the business still offers their black coffee, green tea drinks and Mocha Dreams.
Living the Dream
Camilla Napoleon, who serves as the head of the business alongside her brother Kanuimani Hamakua, said the business venture ended up satisfying their mother's dying wish, which was for her children to stay close after she passed away.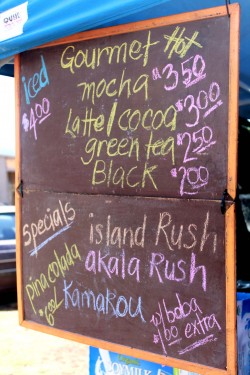 "When an opportunity came up to sell coffee, we said 'let's do it,' not realizing throughout the process that we would be a closer family because of it," she said. "Our mom was really instrumental in all of this by wanting her children to be together."
Now that there are other businesses offering coffee and bubble drinks, the Hamakua family is planning what's ahead for their business.
"We're trying to see what our options are and what routes to take next," Napoleon said.
Employee Koni Laemoa said the business looks promising so far, especially since they save money by being mobile.
"We're still brand new, but we're doing pretty well," he said. "We don't have to pay rent, and we don't have to rent a whole wagon. We can just come out wherever with a truck. Because we only sell drinks, there's not much we have to set up."
Napoleon explained that they plan to maintain their mobility, but they may start looking into acquiring a trailer soon. Kauluna`e said vendors often reserve spots at events a year in advance. But with the business celebrating its first anniversary last month, they had to work a little harder to make it in. The lack of other drink vendors and their simple set-up helped them get spots on short notice, though. These appearances at different events helped draw attention to the business as it expanded its products.
The Hamakua family uses Facebook and Instagram to keep their customers and fans updated on their locations and specials. They have punch cards so loyal patrons can earn a free drink, and Napoleon said their new ones come with a new slogan.
"The logo is my mom's logo, and underneath the logo it will say 'living a dream,'" she said. "It's general, but it's for everyone to know you can dream and make those dreams come true."