Hale Connects People to Land and Sea
At Ka Honua Momona (KHM) Ali`i fishpond, workers take breaks in the shade of a large traditional thatched hale, where it is cool even on the hottest days. Office workers can look out at the hale and 30-acre pond from the windows of the sustainable office building where administrative work supports KHM's mission of sustainability.
KHM hasn't always had these amenities. The office and hale are the newest addition to the Ali`i fishpond, which nine years ago was overgrown with mangrove and knee-deep in mud. Today, because of the efforts of staff and volunteers eager to preserve the site's ancient heritage, the Ali`i and Kalakoeli fishponds serve as a place for learning, sharing and restoring.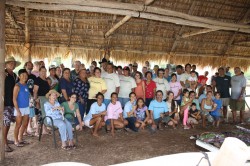 "The ponds attract people to them," said Noelani Yamashita, KHM co-executive director. "We believe our ponds are healing ponds… Part of being Hawaiian or being in Hawaii is that when you're healing the land you're healing yourself."
The office and the hale, which received a formal blessing May 25, represent what happens when a community comes together, how young and old work side-by-side for the good of everyone. It reflects KHM's mission to be a model of sustainability. Yamashita said the completion of the office also means KHM can return its focus from capacity building back to cultural and environmental  education programs.
Young Workers, Professional Standards
Kauwila Hatchett, who serves as executive director alongside Yamashita, sat at her desk in the new office, sunlight streaming in through the windows. She pointed out details of the design – how its shape and décor emulate the fishpond, how the desk and shelving were hand-carved – and expressed her amazement that majority of the construction was completed by youth and other volunteers.
"These kids create masterpieces," she said. "You would think it's something a top professional did."
The foundation of the office and the restroom was completed by 15 high school students and college-aged leaders in seven days. Youth from Ma Ka Hana `Ike, a building program on Maui, came to work a total of three times, though sometimes with fewer students. Ma Ka Hana `Ike also hired a few young Molokai hands to shadow their off-island counterparts. Hanchett said she saw the Molokai kids grow in confidence as they worked alongside the more experience Hana team.
"It was amazing – just the exchange between our group and theirs," Hanchett said. "I've never seen a group where the kids had such a huge level of pride in what they do… They came in and got right to work."
The group has constructed many buildings in Hana, and the KHM office is their first Molokai job.
The office came as a kit from Deltic Homes. Hatchett said it was middle ground between their original idea of working out of a container at Ali`i and the other extreme of building from scratch. The kit, which Deltic discounted at 25 percent, allowed them to construct faster than building from scratch while still creating a green office. The entire Ali`i site is off-grid, meaning they do not rely on Maui Electric for power. Instead they use solar and wind energy with a battery back-up system. The self-monitoring system is the first of its kind on Molokai.
Ma Ka Hana `Ike ended up bringing more workers than needed to build the office, so they also constructed a bathhouse with a composting toilet.
Hatchett said that mainstream waste systems, including cesspools and septic systems, often leak into ground-water. She said that a system like that could threaten to pollute the fishpond, a place where food is harvested. The composting toilets are the first of their kind on the island, allowing waste to be taken to the dump instead of creating sewage.
The traditional hale next to the office was built by a Hana team under the direction of master hale builder Francis Sinenci, also from Hana. However, KHM staff and volunteer groups gathered the logs and leaves and helped with construction. There are no nails in the hale; the structure is held together with ties and intricate fitted logs, just like construction in ancient Hawaii.
"I don't care how hot it is; if you sit under it, it is so cool there," said KHM kupuna Mervin Dudoit.  "If there's heavy rain, not one drop [falls] in the hale."
There is a smaller hale out on the Ali`i fishpond, built entirely by Molokai workers after they learned the process from Sinenci. KHM intern John Brito said 20 keiki from the Molokai Youth Center helped construct it.
"You can sit out there and watch fish come in and out," he said. "It's a place of learning."
Brito also said the construction of both hale was a community effort for future generations to enjoy and learn from.
"There were people three or four times my age doing a lot of work," he said. Hatchett said KHM is driven by the theme of keiki and kupuna – and everyone in between – working together.
Providing Food and Knowledge
Dudoit said he started working toward fishpond restoration with the purpose of feeding Molokai's kupuna. When KHM had their first harvest of the Hawaiian mullet fish in 2009, they invited kupuna from across the island to come and eat with one another.
"I loved seeing those guys smiling, eating and talking story," Dudoit said.
The mullet harvest came after years of restoration efforts involving countless volunteers, Yamashita said. When the Department of Hawaiian Home Lands (DHHL) first gave KHM caretaking rights in 2005, the fishponds were overrun with mangrove. Volunteers and education groups came and helped clear out the mangrove and returned the fishponds to their original state.
"We were able to teach [volunteers] and learn along with them," Yamashita said.
"When I first met Uncle Mervin, he said he wanted to feed the kupuna and pass his knowledge to the next generation, and I thought that was so beautiful," Yamashita said. "I said I would only take the job if he was on the board [of directors]."Dudoit said that after nine years of hard work, he was pleased with the level of restoration the team has achieved. His dedication to the health of the fishponds led him to KHM and Yamashita, who had just become director of the organization when they met in 2004.
All of Dudoit's labor in his early years with KHM was volunteer work. He helped gather community input and worked to acquire caretaking rights from the DHHL. Over the years he has been an educator and a connection to the past, Yamashita said.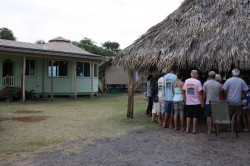 Now, with an office at the fishpond and a strong staff, Yamshita said KHM will increase its programming. Already the organization has been commended by U.S. Surgeon General Regina Benjamin for its breastfeeding program, which includes fathers in the learning process. KHM directors plan to repeat the program in 2014.
"That's one of the most beautiful things about fishpond," Yamashita said. "There's nothing you can't teach from the fishpond."
Looking Ahead
Dudoit sat at the fishpond and pointed toward the foothills across the street. He said they have discovered ancient home sites and other remnants related to the fishpond.
 "Our dream is to one day lease the land," he said. "We want to make this place like it was before."
Yamshita said acquiring that land, which is also DHHL acreage, is part of their 25-year strategic plan.
"We want to care for the mauka of the fishpond too," she said. "Our vision is that we'd be a womb-to-womb space for education and learning focused from a Hawaiian lens."
 Yamashita said this means making it a place of learning for keiki and kupuna, and one day having the site be a kind of tribal colleges, where people can receive education in indigenous practices.
"We would have groups come in with disposable income that don't want to buy lands or develop," she said. "They come to learn… It's people who come for the right reasons and leave for the right reasons."
The fishpond could have its second harvest of Hawaiian mullet later this year. Meanwhile staff and volunteers will continue to care for the fishpond, keeping it a place of connection to history, culture and the land.
 "There's something about knowing you're caring for a place and in turn the place will care for us and nourish us," said Yamashita.