Halau Reunites for Aunty Moana
Thousands of supporters from Molokai, Hawaii and around the world gathered on Molokai April 27 to celebrate the life and legacy of Aunty Moana Dudoit. Members of the late kumu hula's halau over the past 40 years reunited, performing together in remembrance of Dudoit, who died March 16 at the age of 73.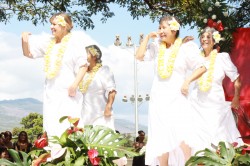 The celebration, which followed a memorial service for friends and family, honored Dudoit with hula, food and togetherness. Dudoit's grandniece Zhantell Dudoit emceed the event, adding humor and commentary as different generations of the halau took the stage. Dudoit's sister Raquel Dudoit, who also led the halau, helped provide music for the dancers.
"Aunty Moana was so supportive and was such a love and a backbone for my halau," said kumu hula April Kealoha of Halau Hula o Kilohana before she danced on stage in honor of her friend.
Dancers from Moana's Hula Halau of Japan also performed at the celebration in memory of the woman who introduced them and many others to the art of hula.