Growing Community Leaders
Seniors present projects at Ohana Night
Molokai High School seniors were given the assignment last August to create a research project, but they were also given the chance to make that project something that could positively impact their community.
Growing Character through Food
To one student, positive impact on the community means teaching the importance of providing one's own food source.
Chelsea Sakamoto said she was inspired by her father Glenn to start a garden for the whole community of Molokai. Sakamoto was specially chosen by Ms. Harada, along with two other students, Misty Mollena and Kawena Puhi, to present her project to the community last Wednesday night at the MHS library.
Harada explained that she and a team of language art's teachers got together and chose three presentations that could represent the senior projects the best.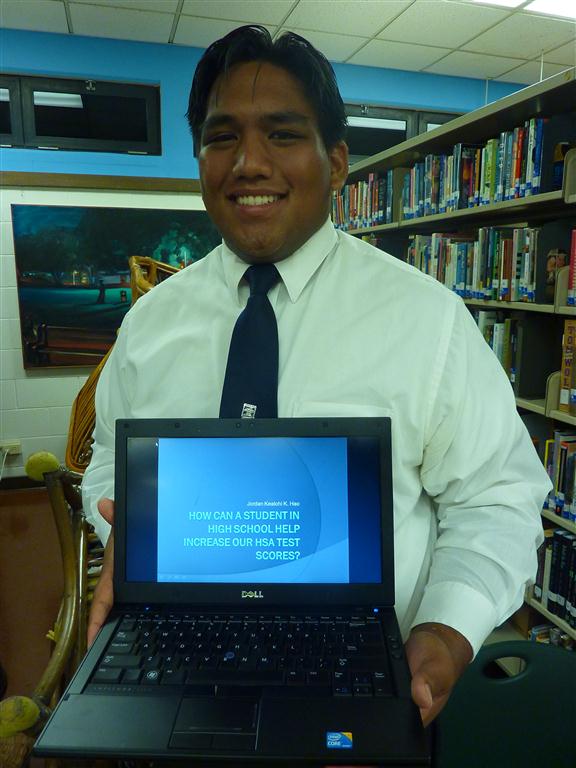 Other projects were displayed around the library and students could explain and present their projects individually.
Sakamoto took advantage of a U.S. Department of Agriculture (USDA) initiative called "People's Garden." It is the government's effort to encourage communities to be more sustainable and help the environment they live in.
There are three criteria that a People's Garden must meet. Participants must benefit the community, be collaborative and involve sustainable practices. Chelsea fulfilled all of the requirements, especially the first.
With the help of community volunteers, between Sept. 2010 and Dec. 2010, Chelsea grew over 2,000 pounds of bananas, 90 pounds of taro leaves and 230 pounds of eggplant in her Ho`olehua garden. She donated all produce to the community food bank.
"How many of you think you could be sustainable if the barge didn't come here," Chelsea asked her audience. Most of the hundred students, parents, community members and teachers shook their heads, "No."
"Sustainability is an important aspect of an island state, so it's important not to be dependent on foreign oil," Glenn Sakamoto said.
Mollena, clearly not afraid to speak in front of crowds, was very adamant about the positive aspects drama clubs can have on a person's self-esteem, social abilities and career.
In her research, she found that 16 out of 26 students would not join a drama club because of insecurities. "Drama club helps me in more ways than just acting or controlling my emotions. It helped me be a better person to everybody I meet, including strangers," Mollena said.
Other projects that night ranged from teaching about medical research, how to treat an ACL injury and how to be a math tutor. Jordan Hao tutored two students who were failing in math, and since beginning his senior project, both students reached an A grade.
"From this project, I learned that no matter what happens, when you have a plan, you can only change it so many times," Hao said. "Either time runs out, or it will be stressful. Run with the plan as soon as you find a way,"
The students will present their projects a final time to a committee on Apr. 4-5. Those presentations will be used as a way to prepare students for their careers through a job-like interview style.