Grow Your Own Dinner
Local farmer offers workshop that can save money.
As everyone scrapes the bottom of the barrel to put food on the table, an old idea is picking up new steam for its cost-cutting, and environmentally-friendly philosophy.
Permaculture is a way of farming that simply let's nature do its thing. And seasoned permaculturalist Joe Kennedy, who owns Molokai Island Farms, wants this farm-heavy island to know about it.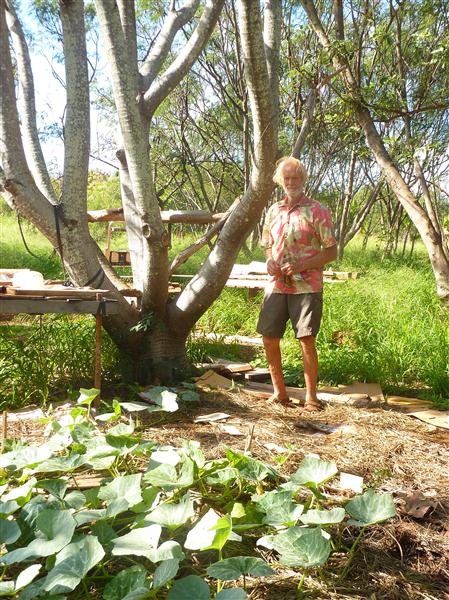 safe, clean food."
Kennedy is hosting a practicum workshop for those interested in permaculture, which can easily be translated into a small family garden. He will be teaching water harvesting, creative mulching, small-scale aquaculture and planting a food forest.
A food forest is the opposite of a farm, where everything is in neat rows and farmers can manage how many products they have from year to year. But by planting spinach for example, underneath trees, the shade helps the spinach grow faster and the root systems work together for nutrients.
Permaculture methods plant perennial products, such as the 'everlasting species' – trees. Kennedy grows avocados and mangos among his many other products.
"Farmers are under pressure to grow huge amounts – from the media, the state and the public," Kennedy said.
Kennedy's workshop is guided by the Permaculture Research Institute, and is from Feb. 18 – 21. It costs $395 – 450 and includes camping and most meals. A discount will be given to Molokai residents.