Gregorson Rider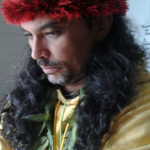 Gregorson Kauha'aha'a Kahue Rider (Plante), 51, of Molokai, HI passed away at Memorial Medical Center on Saturday May 28, 2022.
Greg was born in Kailua, HI on Jan. 26, 1971. He is the son of Michael Rider and Donna (Kahue) Rider. He was preceded in death by his biological father, Albert Plante.
Greg was a very lively and active person who loved life. He was a storyteller and could captivate an audience. He enjoyed his work of farming and was involved in martial arts and the creative arts. More than anything, Greg loved his family and his Hawaiian culture.
He is survived by his mother "Loki" (Dave Barber); daughters Trista (Chad) Gibbens and MyKayla Stahl (Kohala); eight grandchildren; sister Leina; brother Brandon (Alisha) Rider; and haole mother Cinda Barger.
Funeral arrangements to be announced. Any funeral donations can be made at spot.fund/HBSwCj.