Grappling for Glory
MMA makes its successful debut on Molokai
It is the most anticipated Saturday night of the decade, where nearly a quarter of the island's population has turned out. Energetic music vibrates off the bleachers as an overflow crowd bellows for the arrival of local stars. In a cramped and sweltering locker-room above Molokai High School gym, affectionately called The Barn, wrestlers, boxers and amateur fighters get into the zone. The fuse for an explosive and dynamic night has been lit.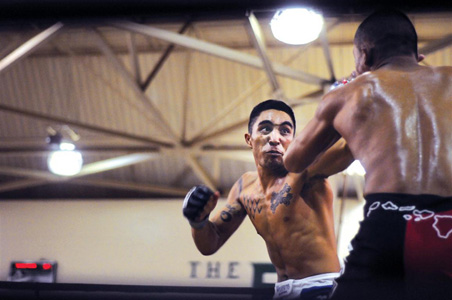 "I felt like we had the greatest fans in the world right here in my hometown," Sproat said. "The fans were more respectful to both the local fighters and off-island guys compared to any other crowds I have fought in. They were well behaved and impressed X1 to bring them back for a few more fights this year."
Topping off the slew of Molokai wins was the main event, between Torres-Umi and Gerald Casteneto. Keeping fans on their feet, the three-round fight was a display of technical skills, ultimate strength and agility. After the judge's unanimous decision, Torres-Umi accepted his prize belt and acknowledged the motivation behind his win.
"Thank you, Molokai. This one's for you."