Grace Episcopal Church Installs New Priest
Community Contributed
By Nita Bogart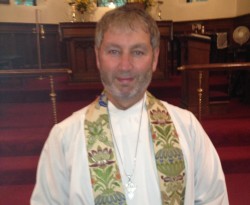 As long as he remembers, Father James Loughren, a country boy from the foothills of the Adirondacks, knew he wanted to be a priest. After studying at St. John's Seminary in Boston and receiving Master's degrees in Divinity and in Systematic Theology, he was ordained a Roman Catholic priest. After years of serving very happily in many churches throughout upstate New York, he felt he needed to take some time off to pray and reflect further on God's will and purpose for his life and ministry.
A short time later, through the invitation of a friend, an Episcopal bishop, God revealed His plan and Father Jim returned to active ministry, now as an Episcopal priest. He welcomed the change, finding the Episcopal Church a good match for his beliefs in accepting and welcoming all believers. He sees it as being the "middle way" between the more traditional mainline churches and the more modern approaches to faith and worship.
Father Jim, having grown up in the country, was attracted to Hawaii because of its traditions and culture, and to Molokai in particular because he shares the values of respect and reverence for nature, for the ohana, and the importance of serving the community. Father Jim sees his coming as more of a calling than a choice: his heart and spirit were drawn to the spirituality of Molokai. He found its peoples' love of the aina similar to his feelings of love and respect for the land where he was raised in the "ever wild" Adirondack Mountains. He shares that he felt drawn to Grace Church, for its "heart," and because like Molokai itself, the people of Grace were committed to protecting everything that is beautiful and special about their little church. So, while he loved the New York mountains, he came here, really not out of personal choice, but out of faithfulness to God's call. He considers it a privilege to live and serve God on this beautiful island where God's presence abounds.
We at Grace Church would like you to meet this remarkable man. He has been described as a " man of God, passionate at the altar," a man who believes that you build a church "one relationship at a time." We think you will find him encouraging, accepting, outgoing, energetic, personable, approachable, and genuine.
Join us for Sunday worship at 10 a.m.at Grace Episcopal Church on Farrington Avenue in Hoolehua. Also, come for Morning Prayer at the church on Tuesday and Thursday mornings at 9 a.m.