Grace Church Thrift Shop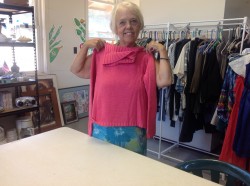 Grace Episcopal Church News Release
Father James Loughren and the people of Grace Episcopal Church of Ho`olehua would like to announce a new outreach program to benefit the community.  We have bargain prices on items such as men's, women's and children's clothing, shoes and bags, luggage, books, toys, games, electronics, and household items.
Hours are Thursday, Friday and Saturday from 9 a.m. to noon. Always check out our monthly special!  This month all denim and chinos are priced at either $0.50 or $1.
Our October special will include Halloween and party costumes and items, including a mix table with plenty of children's clothing.  Usually 50¢ will be only 25¢ throughout October.
Located just behind the church on Farrington Avenue, we are completely staffed by volunteers from the church and community.  Proceeds from sales are used to help needy families on Molokai.  Donations are always welcome at our Fellowship Hall on Tuesdays from 9 a.m. to noon.  Please contact Jule Kamakana at 553-5725 if you would like to make a donation or volunteer your time.