Gov. Signs Bill Appropriating $5M for Kalaupapa Memorial
Ka 'Ohana O Kalaupapa News Release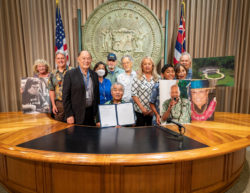 Governor David Ige signed a bill passed by the State Legislature that appropriates $5 million to plan and build The Kalaupapa Memorial. Ige signed the bill, which was proposed by Ka 'Ohana O Kalaupapa, last Wednesday in a ceremony in his offices at the State Capitol.
"I really want to thank everyone involved with getting this measure to my desk," said Ige.
The Governor singled out Senators Lynn DeCoite and Brian Taniguchi for their persistence in leading the effort in the State Senate to pass the bill to fund The Kalaupapa Memorial that will list the names of the nearly 8,000 men, women and children who were taken from their families and forcibly isolated on the peninsula known as Kalaupapa because they were diagnosed with leprosy, now also known as Hansen's disease. Many of these names have been forgotten over time.
Ige also praised the tenacity of Ka 'Ohana O Kalaupapa, the nonprofit organization made up of Kalaupapa residents, family members and friends who proposed the legislation and worked with lawmakers throughout the process.
"Ka 'Ohana O Kalaupapa has been working towards this Memorial for almost 20 years," he said. "Their determination and dedication to honoring the people of Kalaupapa is an inspiration to all of us."
The Kalaupapa Memorial was the idea of the residents of Kalaupapa. When Ka 'Ohana O Kalaupapa organized in 2003, the residents attending that first meeting asked that establishing a Memorial be a priority of the new organization. In 2009, President Barack Obama signed The Kalaupapa Memorial Act which directs the Secretary of the Interior to authorize Ka 'Ohana O Kalaupapa to establish the Memorial and display the names. Since that time, Ka 'Ohana has been working through various environmental review processes, developing a design for the Memorial and compiling the names.
DeCoite noted that the funding for the Memorial showed the State's "commitment to honor our past and to give honor to those who were treated less than honorably when the fear of Hansen's disease took over."
"This Memorial cannot remedy that part of Hawaii's history, but it certainly gives us the opportunity to create a monument that can honor the memory and the legacy of those isolated at Kalaupapa," the Governor said. "It is my hope that this will be a testament to the resilience of the residents of Kalaupapa and their determination."
The Memorial Committee of Ka 'Ohana O Kalaupapa and the Board of Directors will be meeting in upcoming weeks to discuss the next phase of Memorial planning.