Gov. Abercrombie Campaigns on Molokai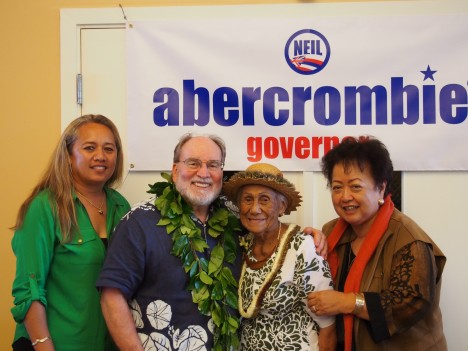 Incumbent Gov. Neil Abercrombie visited Molokai last week to tour local schools, agricultural programs and talk story with residents during his campaign for reelection. At a lunch event held at the Molokai Community Health Center on Monday, Abercrombie shared his accomplishments, as well as discussed some of Molokai's challenges. Here, we have presented a summary of his speech in the form of questions and answers, some of which were added for clarity in this format, and some of which were asked by Dispatch staff in an interview afterward.
Q: What progress do you feel has been made since you've been in office?
A: When I came into office three years ago, there was a more than $225 million deficit for one year.  My budget and finance officer said, "Governor, we don't know how much money is coming in and we don't know how much money is going out and we don't know if we can pay our bills at the end of the month." Can you imagine? I'm talking about the state of Hawaii — we could not be accountable to you, that's how bad off we were financially. I had to borrow money from the hurricane fund, from the rainy day fund. We had to straighten that out and turn it around, and we did. Now we're in the positive balance and paid back the hurricane and rainy day fund. We moved in three years from negative to positive credit rating. Remember Furlough Fridays? We didn't have to lay anybody off. I understand people had to make sacrifices, but I asked everybody to make those sacrifices. We had to take a laulima attitude with one another.
Q: Where do you see Molokai in terms of agriculture?
A: I think of how Molokai can be the breadbasket, so we don't have to import 80 percent of our food. When I came into the legislature in the 1970s, we were importing less food into Hawaii than we are today…that's when I first learned about the potential for Molokai.
I visited the Molokai Irrigation System (MIS). Are you as ashamed of it as I am in what the state has failed to do? How can we say we're going to have agriculture to grow our own food in the 21st century when we can't even keep the Molokai Irrigation System in proper order so our farmers can farm and the young people who want to go into agriculture can do it?
When I found out about the MIS in 2012, we did the planning and design to replace the above-ground concrete flumes with an underground pipeline and build a hydropower plant. We had to get through all the EISs, all the health and safety stuff, and all the protests. We are on the verge of getting the equipment necessary, personnel restored and get that construction done so the MIS can be a partner for agriculture. How can you get young people into agriculture if they cannot get the basic equipment to support them?
Do you know where the best demonstration in agriculture is going on in the whole of Molokai and almost anywhere in the state? It's going on at Molokai High School right now. We have to overcome the health and safety issues… the kids can grow the lettuce and tomatoes but they can't eat it in their own cafeteria and they can't sell it for profit. So we're going to take care of that.
Q: What do you see as current challenges with education?
A: The Weighted Student Formula [system for allocation of school funding] the way it is right now is weighted all right — it's dragging students down. It's the "weighted student anchor." I want a Weighted Student Formula to support classroom action. We have to look at the needs of each of the state's schools individually because one size doesn't fit all. How can teachers scramble for money when the students are scrambling for travel funds? If the Hawaii Tourism Authority that gets its income from travelers can get $70 million a year, do you suppose we can get some of that money to enable all of our students on the neighbor islands to have a travel budget? This was driven home to me today.
I didn't get to meet all the students at the Molokai Middle School and High School because some of them are so good what they're doing they're competing nationally and even internationally.
For construction projects on Molokai, I was told we have to bring workers in from Oahu because the technical education programs at the school got eliminated. That means young people here aren't able to get into the high-paying trades. That's not right. We've got to get back to making sure they have the technical education they need.
Q: What do you see as the direction of Molokai's energy future?
A: The rational for continued importation of carbon-based fuel has disappeared. An interim approach is natural gas, which is up to 10 times cheaper than oil and much less polluting, as a carbon-based bridge to an alternative or renewable energy future. But you get fought and accused on the basis that somehow, by having natural gas come into the islands, prevents commitment to renewable energy on Molokai or anywhere else. Some people are saying that if we can't have 100 percent of everything we want in terms of renewables you can't have anything. That hits Molokai right now because the capacity for Molokai to generate its own energy, aside from some wind and solar possibilities, is very severely constricted.
I think part of what's happened in discussion on Molokai is that people are saying, "No, we want it all for ourselves and you can't take the other islands into consideration." You can't do that. If you make that argument, you're saying, "I guess the rest of the state won't help Molokai with roads or hospitals or education." Molokai doesn't have a big enough tax base to support those things. We have to all be in this together. A cable is a necessity if you're going to share resources in the state, and some islands have more resources than others. Energy independence for each island isn't possible. We're all in this together.
Q: Final words?
A: The Pacific Ocean connects us, it doesn't divide us. We have to see ourselves as brothers and sisters. The idea for me with being Governor is how to bring people together. I want to make investments for the young people, and I want to make investments for our seniors. To do that, everyone in the middle needs to have a good job and a good income. We all have to work together to make that happen. I hope you will conclude that if I have the right values and they're your values, and if I have the right priorities and they're your priorities, that we have the right governor.