The Good Kind of Bully
Local kennel hosts concert benefit.

When Tiare Hubbard decided to partake in a new hobby, she wanted to take all of Molokai with her. And she's always had a soft spot for puppies – specifically pit bulls.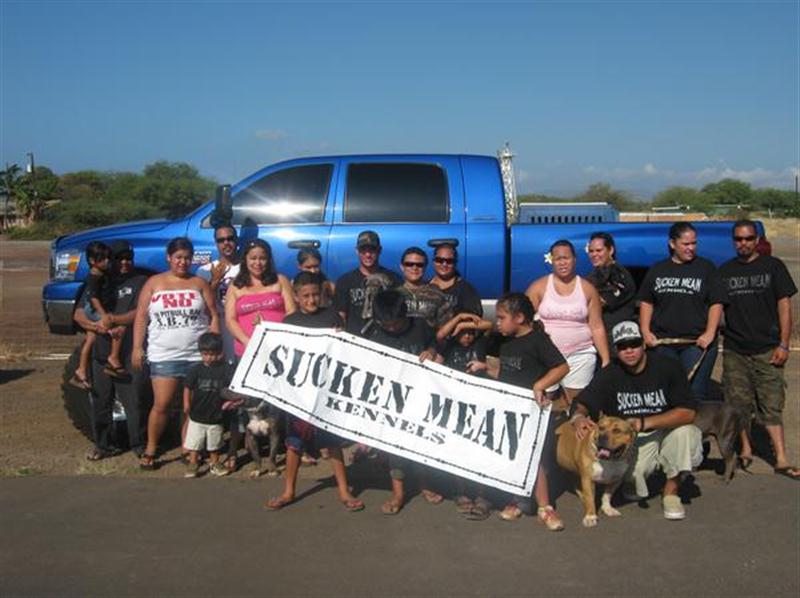 Last year Hubbard started Sucken Mean Kennels, the only bully kennel and breeder on Molokai. A 'bully' canine is the collective term for pitbull-related breeds not recognized by the American Kennel Club (AKC): American Pit Bull Terrier (also know simply as the pit bull), American bulldog, English bulldog, 'Short' bull (mini American bulldog) and 'Staffy' bull (mini Staffordshire pit bull terrier).
This year, she decided to bring the bully scene, which is thriving on other Hawaiian islands, to Molokai by hosting a bully show. To help raise funds, she organized a benefit concert at Paddlers Inn last Saturday night.
Hubbard hopes to have the American Bully Kennel Club (ABKC) Bully Bash dog show in September, and with the help of Hawaii's Strongest Dog Kennel in Oahu, several other bully kennels off-island, and lots of attendees, was able to make a dent in her costs.
The concert featured three bands and a lot of donations for not only Sucken Mean, but the Molokai Humane Society as well.
"It went better than we thought for a last minute thing," she said.
Hubbard also asked the fundraiser's guests for donations to the Molokai Humane Society to help keep a permanent veterinarian on island – "because to have a kennel you need a vet" – and Toys for Tots. Those who donated were entered to win one of two bully puppies, donated by Hope Kennels in Honolulu and Hubbard herself.
Hubbard is also raising money for an ABKC bully pulling competition, set for April.
Pit bulls were originally bred for fighting and guarding, said Hubbard, but are primarily pets now. Because of their strong stature, however, a new sport of pulling is becoming more popular. The bully is harnessed to 3,000 lbs or greater, sometimes a pickup truck, and has to pull 16 feet under 60 seconds. The largest weight class can pull more than 6,000 lbs, according to Pat Augustus, of Hawaii's Strongest Dogs.
About the breed
Bully breeds are not recognized by the standard for dog breeds, the AKC, partly because their similarity to the American Staffordshire Terrier, which is recognized by the AKC, and partly due to its long history of aggressive behavior.
But Hubbard is working against this stereotype.
"My mission is to change the reputation that pit bulls have. To let people know the owners are the problem, not the pit bull," she said.
Hubbard started with two pit bull puppies, and now has eight of all colors and bloodlines. She also started farming out her dogs, to others interested and qualified to own a bully. She sells a bully at half price, teaches the new owners how to breed the dog, and receives a puppy from the first litter to replace the original.
"We breed for temperament, we breed for color, [and] we breed for physique – in that order," she said
With the help of these "co-owners," as well as smaller bully kennels that have started in her wake, Hubbard has started a bully community on Molokai, which she hopes to expand to monthly barbeques in the future.
Another endeavor that came with Hubbard's new business was a clothing line. She explained that kennels have their own logo designs. It becomes a competition to see who has the best design, she said.
Overall, Hubbard gets a lot of help from the other kennels.
"I'm an equal on Hawaii, but heading the effort on [Molokai]," she said. "This is about a group coming together to better the breed."