In Good Hands
The waterfalls, lo`i and lush, green vegetation that cloak the Kawaikapu watershed on Molokai's east end are here to stay. The Molokai Land Trust (MLT) purchased a 196.4 acre section of the sacred grounds last week.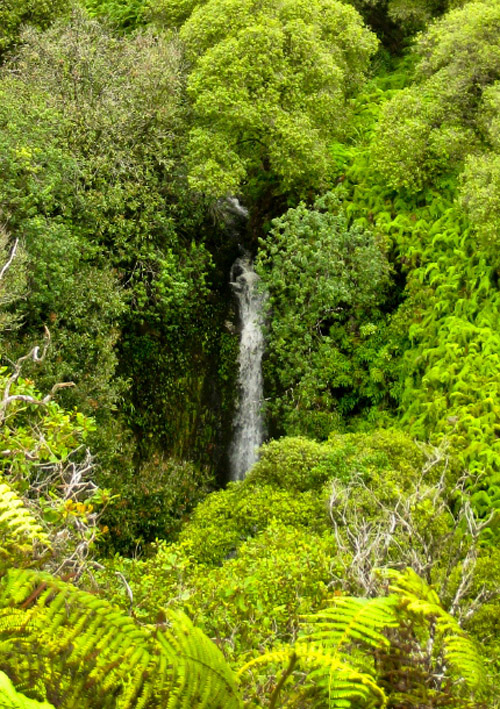 The land's previous owners, Greg and Tracy Gordon, sought to sell the property because it was becoming too much for them to handle. The 8.5 million square feet of land was being worn away by erosion, invasive species and animal damage.
"This land needed a better future and Molokai Land Trust offered a permanent solution by putting the land into conservation versus sold and developed," Greg Gordon said.
Gordon originally turned to Ke Apuni Lokahi, a local community development non-profit organization, to help him find a safe owner for the land. They put Gordon in touch with MLT.
Last year, MLT took a major leap towards purchasing the land with a $767,976 grant from DLNR's Legacy Lands Conservation Program.
"767,976 – that is a number I will not forget for as long as I live," Haase said.
The County of Maui came through last month with the final piece of the puzzle – $480,000 through its Open Space, Natural Resources, Cultural Resources and Scenic Views Preservation fund. Last Monday, MLT officially gained ownership of the land from the Gordons.
"It's our first land that we actually outright own," Haase said. "Now, we actually have some tangible results, which is a very nice feeling."
MLT was formed in 2006 to preserve and restore land on Molokai. Along with Kawaikapu, they currently hold 99-year leases on 1,695 acres of land on the island's west end.