Golf Ace and Teacher's Game
Community Contributed
By Rick Schonely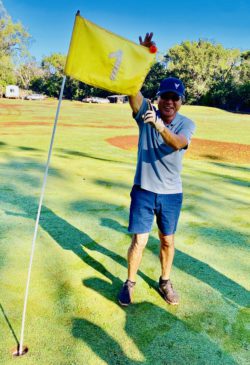 Retired dentist and Molokai pro golfer Dana Takashima scored a hole-in-one on Dec. 17 at Iconic Ironwood Hills golf course. It was the number one hole and the first shot of the day for Takashima with his 7-iron from 135 yards. Takashima was just hoping that it would not hit the tree in front of the first green, but it got by and rolled true to the pin and dropped in
for an ace. It's his second ace. The shot was witnessed by Molokai golf pros Bob Danner, Rodney Reyes, Zachary Helm Greg Len-Wai, Jeff Egusa and Ponciano Raguindin.
On Dec. 30, the Molokai teachers and friends held their bi-annual golf tournament at Iconic Ironwood Hills golf course. The December tournament is known as the Winter Classic. All the golfers gather and compete for two trophies, the low gross winner would get the horns trophy and the checkered jacket, and the low net winner would receive the Molokai bowl trophy.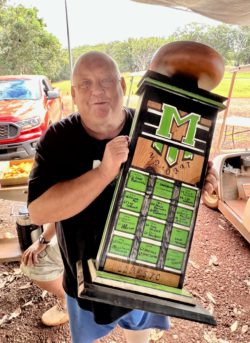 This year one golfer took both trophies, and it was none other than longtime Molokai Middle School science teacher Scott Hemenway. Scotty "Too Hotty" Hemenway shot 38-38 for a low gross total of 76 to get the horns and jacket trophy, and with his 12 handicap his low net score of 64 got him the bowl trophy also!
The Molokai teachers have been holding their biannual golf tournaments for 15 years starting in 2008 and they would like to thank Ironwood Hills Golf Club and their staff and management for perpetuating the game of golf on Molokai. A special thanks goes out to MHS Athletic Director Lee DeRouin for spearheading and running the annual Molokai teachers' golf tournaments.