Go for the Green Scholarships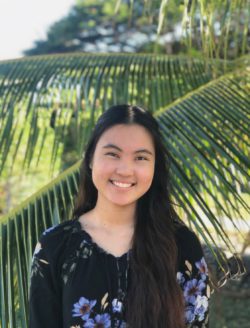 Rotary Club News Release
The Rotary Club of Lahaina Sunset announces the recipients of the two "Go for the Green" $2,500 scholarships. These scholarships are being offered to the selected students who will be attending an accredited college and must be pursuing a field of study that will benefit the environment. Reese Raguindin from Molokai High School and Manuel Kupa`a Castro from Lahainaluna High School were the recipients of the 2021 Go for the Green scholarships.
Raguindin will be attending Pacific University in Forest Grove, Oregon. She will be majoring in education. She earned a 4.167 grade point average while being a leader in student government and various organizations at Molokai High.
"Education is the most powerful weapon which you can use to change the world," said Raguindin. "I wish to become a public school educator so that I can help change the world one student at a time."
After completing her degree in Education she wants to return to Molokai "where I can teach students to value education and develop a sense of school belonging."
Castro will be attending St. Martins University in Lacey, Washington and will be majoring in Engineering. While maintaining a 3.8 grade point average he worked 25 hours a week at Island Grocery Depot.
"I am truly grateful for being selected as one of the recipients of the $2,500 Go for the Green Scholarship from the Rotary Club of Lahaina Sunset," said Castro. "From my freshman year in high school, it was my dream to attend a university on the mainland, and with this scholarship, this goal is now being achieved. This award will allow me to focus not only on my educational success but also participate in club activities with Hui O' Hawa'i Club and Engineers without Borders."
Both of these students and their families are invited to the annual "Celebrations" hybrid/in-person meeting of the Rotary Club of Lahaina Sunset on June 29, starting at 5:30 p.m. At that time the students will share a little about their college plans. If a guest would like to join this hybrid meeting via Zoom, contact past president Mariko Higashi to be included on the invite list at marikoinmaui@gmail.com.