Glory-Ann Kehaulani Kaili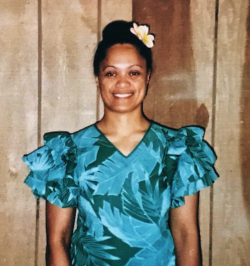 Glory-Ann Kehaulani Kaili was born on July 10, 1954 to the late Edmund Unea Lima, Sr. and Barbara Jean Pua Mersberg and went home to be with the Lord on Feb. 22, 2021. She is survived by her ex-husband Edward Kaili, her loving children Camey Kaina of Maui, Esther-Jean "Kēhau" (Kimo) Orlando, and Jerome (Teri-Lee) Kaili of Molokai; grandchildren Sydney, Ainsley, Shekinah, Kilakila, Nakoa, Kamehana, and Kia`i; great grandchildren Kanoa, Kala`i, and Talyn; siblings Edmund "Boy" (llima) Lima, Barbara (Blue) Poepoe, Vashti Lima, Deedee (Herman) Coelho and Minnie (Dino) Lima; and many beloved nieces and nephews.
Celebration of life visitation will be held on Saturday, April 3, 2021 at Kingʻs Molokai. Public visitation at 9 a.m. and services will be at 10 a.m. Social distancing protocols will be followed and masks are required.