Gladys "Cookie" Brown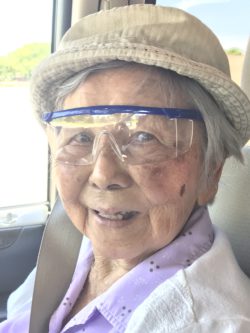 Gladys "Cookie" Brown was born in Lahaina, Maui on June 4, 1926, the youngest of 10 siblings. She graduated from Lahainaluna High School in 1944 and was active in many leadership roles while she was there. One close friend and classmate described her as a "really smart girl." She spent a year teaching in Missoula, Montana, followed closely by some time teaching in Waimanalo on Oahu.
She moved to Molokai and continued her teaching career on the East end of the island. Throughout the years, she had stints at different schools on the island, including the no longer existent Holomua School. Her final assignment before retiring was as a remedial reading teacher at the high school. Among her many volunteer activities was AARP, Home Pumehana, University Extension, The Molokai Dispatch, Friends of the Library, St. Damien Catholic Church, MEO, HSTA-R and Family Community Education.
She traveled and worked extensively for these organizations and more. It was said that she was always in motion, moving from one appointment or commitment to another. One friend posted that "she was everywhere!"
She was the quintessential educator, not only helping others learn, but more importantly,
showing them how to learn and to enjoy learning. She was mentally sharp to the very end,
keeping her schedule completely in her head. She was also the consummate networker, connecting people with those that could help them in their time of need.
Early on the morning of Sept. 12, 2020, the Lord called Cookie to come home to Him. She left peacefully in her sleep. She served Him faithfully for 94 years. She will be missed greatly by the many she loved and those who loved her.
A memorial page has been created for her on Facebook. It can be found by searching "Gladys "Cookie" Brown." If you knew her, her family love it if you would take the time to share thoughts, stories, pictures and videos of your memories. She touched and loved a huge community.
Cookie has been cremated and in the future, when travel is open and unrestricted, her family
will bring her ashes back to Molokai to scatter them offshore, per her final wishes, with plans to be announced on her memorial page and in The Molokai Dispatch.