Girls' Soccer Works on Defense
The Molokai girls' soccer team fought hard in the pair of matchups last weekend against Lahainaluna – lots of bruises, sprains and other injuries – but no goals. They had a 0-4 loss on Friday, and a 0-8 loss on Saturday.
Family and friends were on hand to support their athletes on the field at the Lady Farmers' first home games of the season, last Friday and Saturday.
"I think some of the girl's had the jitters, but they played well and improved on their team unity," said coach Jason Keanini.
The Farmers' came out strong in Friday's match, but started to lose their momentum quickly after two goals scored by the Lunas.
The Lunas scored two more, but goalkeeper Susan Smith kept the score at four when she made a difficult save near halftime.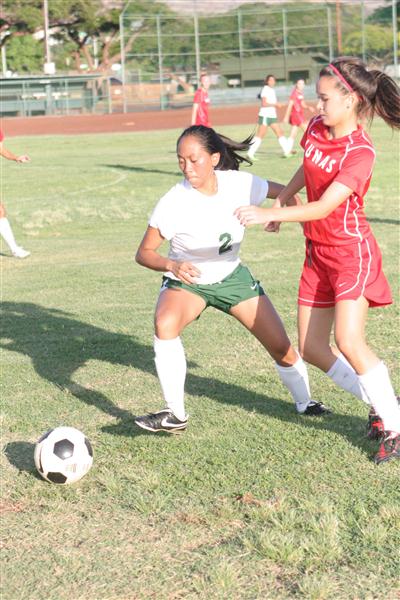 Lahainaluna did their best to keep the pressure on Molokai and kept the ball out of their own territory most of the time, keeping the Farmer's defense busy.
Their coach wants to let everybody know that his team played their hardest.
"They left everything on the field and played as a team," Keanini said.
Saturday's morning match was more of the same from the previous night. Molokai was plagued steals and by missing a couple more shots on goal, unable to achieve the momentum they needed.The final score was 0-8.
"The girls are playing with a lot of heart and it shows," Keanini said.
Keanini said they will re-evaluate their playing style and try to rebound in their next games. The Farmers again play at home this weekend against Baldwin High School.