Girls Grab Paddling Firsts
Not only did the Molokai High School girls' paddling team win Maui Interscholastic League (MIL) championships last weekend at Kahului Harbor, they began the season with their first regatta win ever. Now the girls head to Oahu to represent Molokai for the first time at the state paddling meet next weekend.
"They did everything perfect that day," said coach Tania Kaholoa`a. "The girls just wanted it so bad."
They won the half-mile race ahead of main rivals Seabury Hall – who in the spirit of competition donated money for their travel – at 4:17.66, also their best time of the season. Paddlers Kailana Ritte-Camara, Natalia Levi, Leenell Hernandez, Crystal Puaoi-Kawai, Keaka Kaiama and Jasmine Borden made up the winning crew.
"They trained so hard these past couple weeks, knowing [the win was] just in front of them to grab," Kaholoa`a said. "They paddled from their hearts."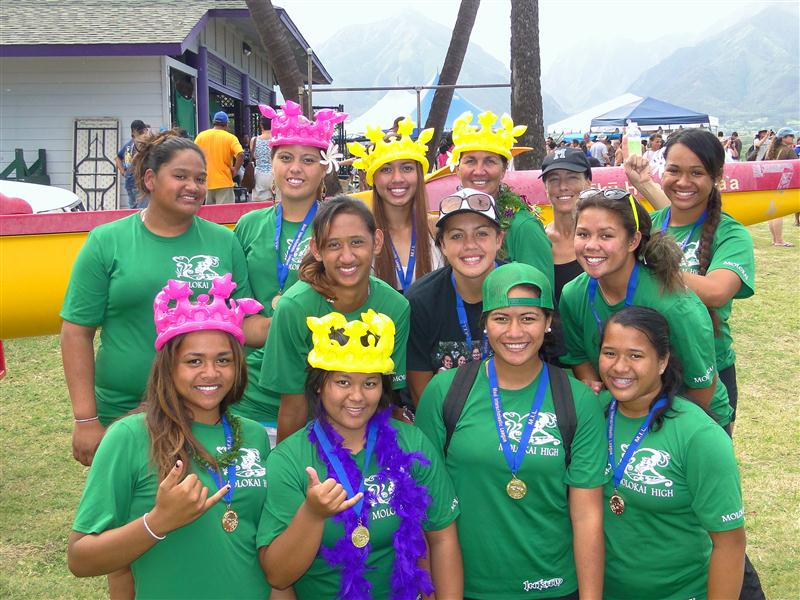 The state meet will host 16 teams from around the state, with Seabury and Kamehameha Maui joining Molokai to represent the MIL. The crews will be split into two preliminary heats, with the first and second place teams heading into the final race. There will also be what Kaholoa`a called a double elimination – the third and fourth place teams will go into a semi-final race. With Molokai seeded first in the MIL, Kaholoa`a said their goal is to make it to that final race.
The girls' paddling state championship race will take place at Ke`ehi Lagoon on Oahu, on Friday, Feb. 11.
Boys
For racing with a novice crew, boys' paddling coach Dave Gilliland is equally proud of how the boys placed at the MIL championships. The Farmers came in fifth at 4:04.56 – their best time of the season.
"The boys did a good job taking the girls' energy into the boat," Gilliland said. "We got where we wanted to be this season."
Seniors Dustin Bishaw, David Gomes and Eric Gilliland were recognized at the meet, and Coach Gilliland said he is excited to have a crew of strong paddlers to "build a base" for next season.
The boys were also trained by MHS teacher Ric Ornellas, and 2010 MHS graduate Mahi Kan-Hai, whom Coach Gilliland said he is grateful for.
The boys ended the regular MIL season tied for fifth place with Maui High.