Gimme a Beat
African dance troupe performs on Molokai.
Molokai Public Library's usually quiet halls echoed with drum beats and song last Wednesday as Badenyaa African Diaspora Dance Theater took the make-shift stage. They incorporated drumming, dancing and chanting in a one-hour performance that had their audience captivated.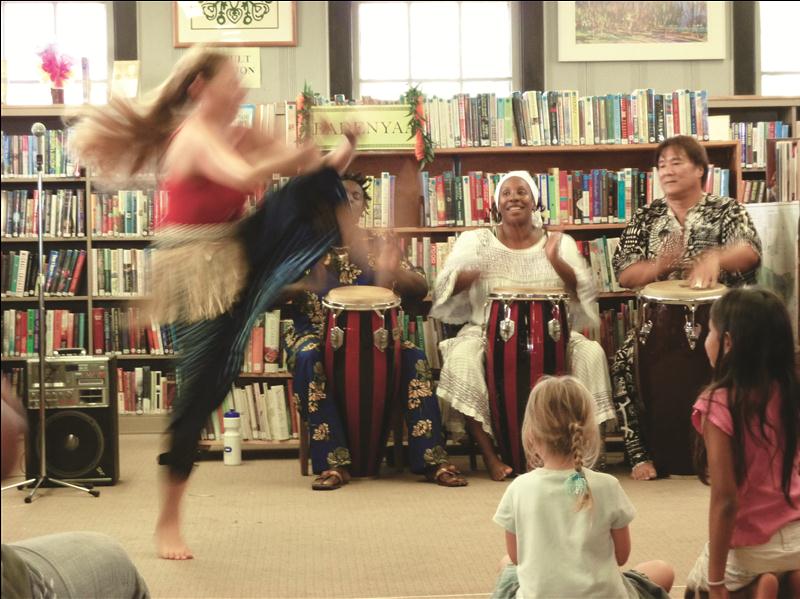 About 40 people – including many keiki – gathered for the performance by four members from the Oahu-based group. Between songs, choreographer and lead singer Emily Uribe also gave the crowd lessons in African history, mythology and geography.
"African culture – and drumming in general – is about involving the community," Uribe said, describing the "symbiotic relationship" drummers have with their audience. At one point, she had the whole crowd on its feet, clapping and stomping along.
The music Badenyaa played was traditional to central Africa and spread to Caribbean countries like Cuba and Haiti with the slave trade.
Though the music originated thousands of miles away, Uribe said its rhythm and storytelling have universal appeal.
"Music is innate in everybody," she said. "We really just want to drive home that point."
The event was part of the library's Summer Reading Program. Earlier this month, the library featured a performance by the Hawaii Opera Theater and this week hosted Huliau, a contemporary Hawaiian dance company.
The series wraps up with the program "Be Kind to Animals" on Tuesday, June 29 at 10 a.m.