Gig in the Garden
Haunting melodies of a single wooden flute drift into the indigo dusk, its song joined by a waterfall of piano notes. It was the first "concert in the garden" held at the newly-revitalized Mahana Nursery last Thursday night, featuring two world-renowned musicians.
"Their music… takes me into my heart," said Teri Waros, organizer of the concert.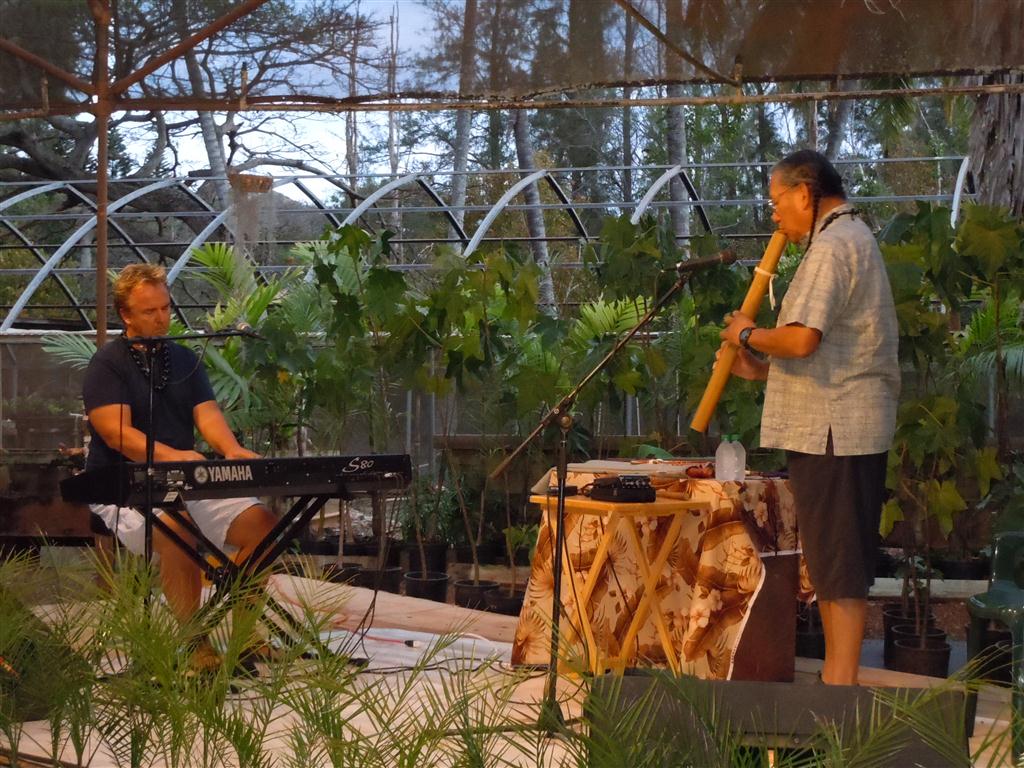 Pianist Peter Kater is a six-time Grammy Award nominee who's composed music for over 100 TV shows and films and is also a recipient of the United Nations Environmental Leadership Award. He was joined by one of the world's top Native American flutists, R. Carolos Nakai, who has collaborated with dozens of recording artists, including Keola Beamer. Together, they touched their Molokai listeners with their powerful music.
Waros first met Kater over 20 years ago, when he played at her mainland jazz club.
"He played piano like no one I had ever heard before," she said. "I carried their music around the world with me – no, actually, it carried me," she said of Kater's albums.
The stunning outdoor venue at Mahana Nursery, recently restored by Nan Omstead and Dusty Dancy, drew a crowd of eager listeners. Many came before the concert started to enjoy ono pupus provided by Mahana.
"It's a real treat to play outside with nature," said Kater, who was visiting Molokai for the first time. He described the island as "the most unique, energetic place I've ever been to."
The recital, part of a Hawaii tour with the mission to "awaken kindness," featured music improvised on the spot by the duo.
"This is a unique concert – just for you," Nakai told the audience.
With Kater on keyboard and Nakai using a variety of wooden flutes, a golden eagle bone and chillingly beautiful vocal additions, Native American melodies melded seamlessly with nature-inspired piano harmonies.
The concert was originally schedule to be a collaboration between Kater and Tibetan flutist Nawang Khechog. Nakai stepped in when Khechog unexpectedly had to undergo surgery for a blood clot in his brain last week.