Get Yo Ink On
You don't have to go far for one bad ass tattoo.
Adorning Sherron Dudoit's studio walls are eye-wateringly intricate designs showcasing his knack for original Polynesian artwork. Take one step in, and you're lured into the realm of tattoos – and whether you went there to get inked or just to check it out, you're guaranteed to leave already wanting more.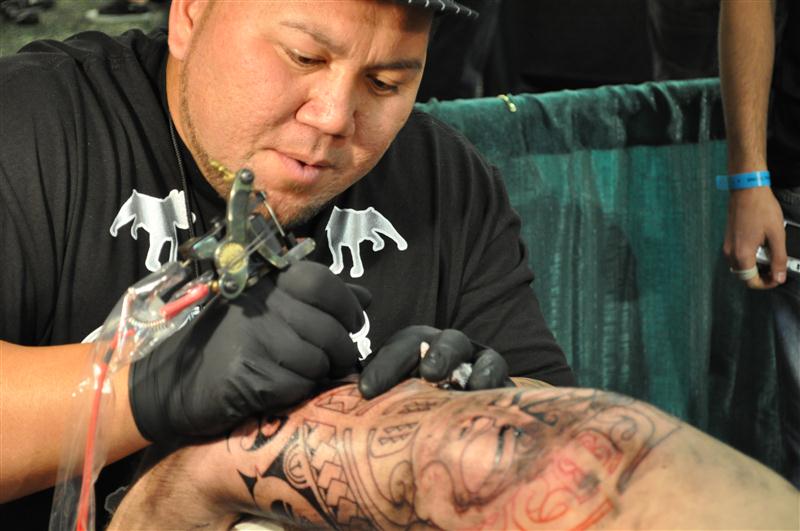 to be licensed on Molokai," Dudoit said. "So I figured, why not open up my own shop?"
Dudoit will be opening the Friendly Isle's first-ever tattoo shop in the back of Art From the Heart – that used to house a framing gallery – alongside his apprentice Lyndon Dela Cruz, Molokai's second tattoo artist to be recently licensed.
"I've been doing tattoos for a year now," Dela Cruz said. "I had thought about doing it for a long time because I was big into drawing and air-brush type stuff. Sherron kept pushing me so I finally did it."
Although Dudoit's plans to open up shop are just now being realized, his itch to launch his own tattoo business crept up long before.
"I wanted to do this my first or second year after tattooing," he said, "and I'm that kind of person when I see or want something, I want to get it now. But it was all in God's time."
Road to Righteousness
It was five years ago that Dudoit first put needle to skin.
"A guy came into my office one day and saw my drawings," Dudoit said. "He came back with a second-hand tattoo kit and said 'Can you tattoo me?'"
Dudoit not only tattooed him, but inked his cousin the following day as well.
"It was scary," he admitted. "It's not like you can erase it."
From then on, Dudoit was hooked. He purchased his own equipment and began tattooing out of a small studio in Ho`olehua. With guidance from friend Andre Davis, a tattoo artist at Rock Solid Tattoo in Honolulu, Dudoit began to develop a strong clientele, and started Righteous Ink. Although he now attracts many off-islanders who fly to Molokai just to get tattoos, Dudoit also travels once a month to Honolulu to tat customers at Metal & Ink Tattoos.
Dudoit said his passion for art and drawing began when he was young.
"I've been drawing my whole life – ever since school," he said. "I used to make everybody's banners."
Little did he know that banner-making would evolve into marking and etching canvasses of the human body. But what Dudoit is more known for than actual tattooing itself, is his original Polynesian designs. Dudoit said he incorporates "contemporary Polynesian" into his art – a mixture of all cultures.
"Everybody wants Polynesian in Hawaii not only because of its meaning, but because of the art," he said. "I've learned about different cultures from different people who come in – Tahitian, Maori."
Dudoit said through the process, he has continued to learn and grow with his art.
"When you stop coming in with an open mind, you stop growing as an artist," he explained. "When people walk out of my shop, I want to be happy with the end result. I'm my own worst critic."
Check It
When Righteous Ink officially opens its doors this summer, patrons can look forward to more than just tattoos.
Dudoit plans to sell merchandise from HI Finest, as well as launch his Righteous Ink clothing line.
That's not all. Guest artists such as Tom Renshaw, from Eternal Tattoo in Detroit, one of the world's top portrait artists, and Richie Lucero of BlackCat Tattoo in Honolulu will tattoo in Dudoit's shop this summer.
Call (808) 646-0040 to make a consultation appointment with Dudoit and stay tuned for updates.