Get With the Program
Many ways for keiki to play and learn all summer.
A barge-full of opportunities has arrived on Molokai, keeping keiki engaged and entertained all season long. With lots of ways for keiki to play and learn – from playing soccer to picking papayas and, yes, even learning about worm poop – the island has something for every youth.
Seventh-Day Adventist Church
All ages are welcome to attend the Seventh-Day Adventist Church's Vacation Bible School, which started Monday and continues through this Friday.
"We are hoping that they'll learn more about God" during the camp, said church member Jaime Herman, who is leading the annual program for the first time this year.
Herman said keiki will learn five character qualities related to Christian principles, including contentment, self-control, diligence, faith and forgiveness.
Although the camp already started, keiki are invited to join Wednesday, Thursday and Friday. Arrive at 5:45 p.m. any night to register. For more information, call Herman at 658-0480.
Department of Parks and Recreation
Whether your keiki wants to swim like a fish or hop like a frog, the Parks and Rec has two upcoming free programs to learn to swim and play volleyball.
Parents can visit the Kaunakakai Gym or pool to register their keiki for the learn-to-swim program, which includes four experience levels. The pre-school level is for 3- and 4-year-olds, while levels one, two and three are for ages 5 and up.
"What we do is assess the kids and put them in the appropriate class," said Mike Mangca, Maui County's recreation leader for Molokai.
Classes, which started June 21, are currently being held at the pool on Tuesdays and Thursdays through July 19. They are taught by instructors from Alu Like, a nonprofit organization dedicated to Native Hawaiians, and the county-funded program Play and Learn Sessions (PALS).
Mangca said he is still seeking coaches for the volleyball program, which will begin sometime in July. Coaches interested in volunteering may contact him at the Parks and Recreation Department.
"That's usually what slows up our programs – there's not enough coaches," he said.
In the meantime, you can register for volleyball by visiting the Kaunakakai Gym by a flexible deadline of June 24. Classes will be divided into two age groups: 5 to 8 and 9 to 12, with one group practicing at the gym on Mondays and Wednesdays and the other on Tuesdays and Thursdays.
Molokai Public Library
The library will wrap up its Children's Summer Reading Program with two final performances. "Novel Destinations: There's The Door?" is aimed at teens and young adults, hosted by three storytellers on June 28 at 3 p.m.
In "Irish Folk Tales with Storyteller Niall de Búrca," this performer returns to Hawaii to tell tales of ancient Ireland in a show recommended for ages 5 and older on July 1 at 2:30 p.m.
Both performances are free. For more information, call the library at 553-1765 or visit www.librarieshawaii.org.
Molokai Baptist Church
With a new soccer field in the back of church property waiting to be used, pastor Randy Manley of the Molokai Baptist Church and volunteer Kurt Go are excited to host an upcoming soccer camp, taught by instructors brought to Molokai by the Colorado-based Uncharted Waters (UW) Sports Ministry.
"That's why this is a great blessing for us," said Go, who also serves as athletic trainer to the high school. "Soccer is one of the sports that [UW Sports Ministry] could do, and it was ideal because we have a brand new field."
Manley added the program is "testing the waters" to potentially start a youth soccer program in the future.
The church will also host a separate basketball camp, to be held in the church's gym and also taught by instructors brought to Molokai by UW. Both camps run from July 18 to 22.
"We're… wanting to provide another venue for kids to have some good instructional organized activity during the summertime," Manley said.
Both camps are available to keiki ages 6 to 12. Keiki ages 4 and 5 can partake in a special group called Team 45, where they'll learn basic sports skills like throwing, catching, jumping and running.
Camps run from 9 a.m. to 12:15 p.m. and light snacks will be provided, Go said. In addition to learning about basketball or soccer, participants will also learn about scripture in separate morning sessions.
The fee for each camp is $30 per child. Interested parents can register up until the first day of camp by calling the church at 567-6689 or downloading an application from its website, www.molokaibaptist.com.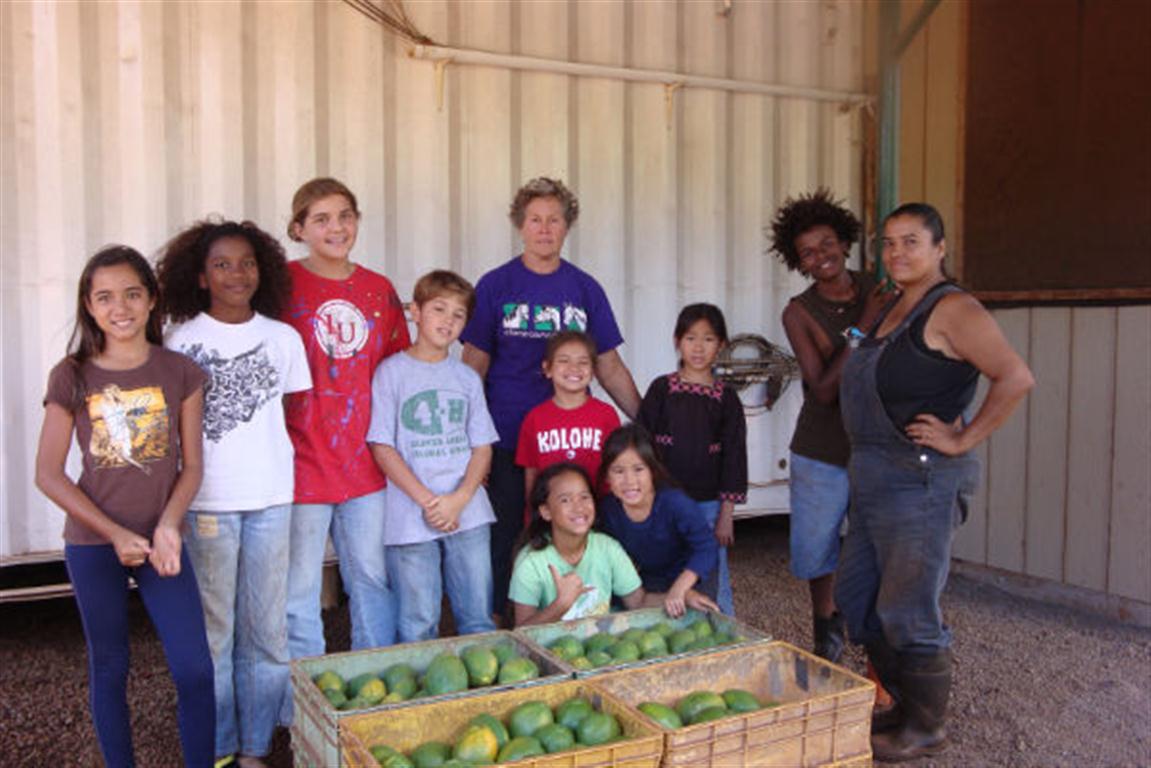 4-H
Learning about worm poop might not sound so cool at first, until keiki learn that the product – technically called worm castings – are a valuable part of agriculture in a process called vermiculture.
4-H leader Viola Mundrick-Wichman plans to host an introduction class to vermiculture sometime in July, with a date to be announced. While the class is intended for 4-H members, all ages of the public may also attend, she said.
Mundrick-Wichman said the class is an extension of 4-H's Full Circle and Green Project, in which horse manure is used to fertilize papaya. The papaya seeds, which are natural de-wormers, are then fed to the horses to complete the environmentally-friendly circle.
"The natural progression in our process is to grow worms, grow their castings … and that's what we use directly into our organic papayas," Mundrick-Wichman said in describing the vermiculture process.
As another part of the Full Circle and Green Project, families may join 4-H members in picking the papayas every Wednesday on Keonelele Avenue near Howard Farm.
For more information and directions, contact Mundrick-Wichman at 560-6204 or tippy@aloha.com.

Summer Food Service Program
Families are invited to participate in the federally funded Summer Food Service Program to make sure their keiki are well-fed this summer. Put together by the PALS program, the initiative helps keiki who receive free or reduced-price meals during the school year.
Meals are served on a first come, first served basis, so interested parents should call Maui County Recreation Specialist Karen Deguilmo in advance at the PALS office at 270-7403 to be included. Information about the program – including locations, times, and instructions on how to participate – can also be found by calling the PALS office.