Get Local Gifts at Plant and Pot Sale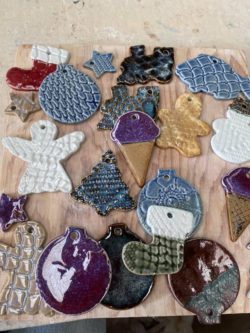 MAC News Release
The Molokai Arts Center will hold its annual Holiday Plant 'N' Pot Sale on Saturday, December 12 from 9am to 3pm. This year however, the MAC will partner with Kamakana Country Store in historic Kalama'ula Homesteads.
The fundraiser will feature Art created by local artists including orchid pots by master potter Dan Bennett, sculptures by this year's Member Art Show Best of Show winner Nena R. Evans, tree ornaments by studio manager/instructor April Maddela, succulent pots by instructor Betty West, vases by co-founder Kim Markham, cards by Debbie Delatour, planters by Steve Turk, pots by Lil MacMillan, photo calendars and cards by Betts Cruz, cups, bowls, platters, kitchen pots, soap dishes and more! Find unique handcrafted gifts for special friends and family, then treat yourself too!
Kamakana Country Store is located on Kahanu St, off Maunaloa Highway, near the 2 mile marker. Look for the ORCHIDS sign. The Kamakanas will offer 10 percent off their selection of orchids, ferns, anthuriums, succulents, bromeliads and hibiscus.
Masks are required and we ask that you practice social distancing etiquette. Masks made by MAC members will be available. Boutique sales benefit Grace Episcopal Church. Art sales benefit Molokai Arts Center, Inc., a nonprofit arts education organization. Donations are always welcome at molokaiartscenter.org.
There will be no MAC Saturday Keiki Classes on Dec. 12, Dec. 26 and Jan. 2.