Gertrude Seabury Kaauwai of Kalaupapa, Dies at 78
By Ka`ohulani McGuire

Gertrude Roselani "Spitfire" Seabury Kaauwai, known for her determined spirit and "spunk," died on Dec. 24, 2010 at Straub Hospital. She was 78.
Raised on Maui, Aunty Gertie or "Girlie," as she was affectionately known, was born on Nov. 26, 1932 at Olowalu. At age 11, Gertrude was sent to Kalaupapa on Sept. 27, 1944 where she was a resident for 66 years. Even though she was free to leave, she chose to remain in the home that she came to love. Known for her mischievous pranks and her spunky attitude, Gertrude earned the nickname of "Spitfire" from one of the Catholic sisters. For Gertrude, being sent to Kalaupapa was a blessing in disguise. There she found new independence and freedom. Eventually she met and married the love of her life, Barney Kaauwai, whom she credited for having made her a better person.
Aunty Gertie learned the art of la`au lapa`au from older Hawaiian residents at Kalaupapa. Her favorite plant was the hauowi from which she made a tea to treat kidney problems. The leaves were also pounded into a poultice and used to heal broken bones or treat skin problems. Many a resident turned to Aunty Gertie to treat their ailments.
Visitors who spent any amount of time at Kalaupapa knew Aunty Gertie as the "cat lady." Every afternoon at 1:30, Aunty would start preparing and cooking a gourmet meal for her colony of beloved cats, feeding them steak, hamburger and other delicacies mixed in with dry cat food. Even more amazing was that she had names for all of her cats and could tell them apart. At any one time, Gertrude fed anywhere from 25 to 35 cats at her home, not to mention the numerous other feral cats around the settlement. What a comical sight to see her car driving down the road and the cats running from all directions following after her knowing they would get fed.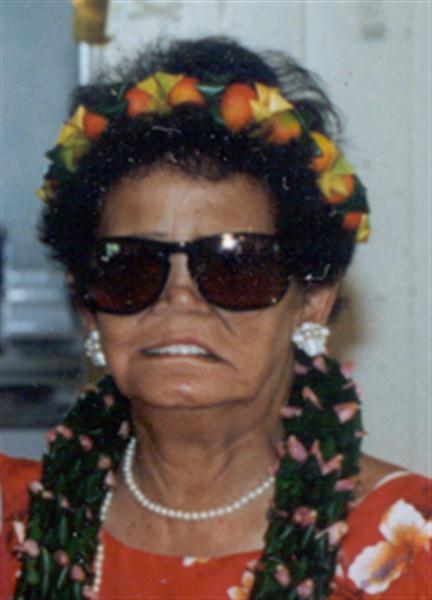 But, most of all, Aunty Gertie will be missed at Fuesina's bar where she played cribbage six nights a week. She was a great teacher and many a visitor learned to play cribbage and got "skunked" by her. Her knack at remembering numbers and instantly knowing the score as soon as she saw your hand was uncanny and remarkable.
Aunty Gertie was a true hulu kupuna. Beloved by all, she will be greatly missed by the Kalaupapa community and everyone who knew her. When reminiscing about the good ole' days, Aunty liked to use a favorite expression, "I drop tears." When we think of Aunty Gertie, we will all drop tears for her.
Gertrude is survived by daughters Laura, Debra, Sharon and Cynthia Frasco; stepsons, Charles, Earl, Wayne and Christopher Kaauwai; numerous grandchildren; sisters, Elizabeth Kahihikolo and Anna Maglinti; and brothers, William and Lawrence Seabury. Gertrude was laid to rest in a private burial at Papaloa Cemetery, Kalaupapa.