Fun for the Whole `Ohana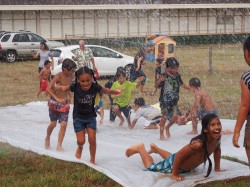 Last Saturday's Kualapu`u School `Ohana Fun Fair brought crowds of families for a day that included a beauty pageant, fitness challenge, horseback and wagon rides, face painting and art booths, bounce house, and a wide assortment of food and craft booths. The event was a kick-off to the school's 10th anniversary of converting to a charter model.
The fitness challenge, pictured here, featured age-appropriate obstacle courses in a fun, "everyone wins" race over tables, through tires, into a muddy dunk-tank, and past opihi-picking challenges, all to end with a cooling water slide. The fitness event, through a partnership with Na Pu`uwai, promoted exercise, healthy competition and self-confidence, according to Na Pu`uwai's Kari Kikukawa.
Kualapu`u Principal Lydia Trinidad said the celebration of the elementary school as well as its pre-kindergarten program, organized by pre-school parent Kimberly Lani, was also a fundraising event.  It marked the first in a series of community events this year to both observe the 10th anniversary and raise money for the school, but also fulfilled another goal.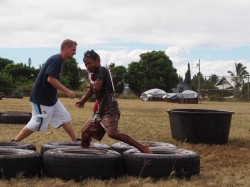 "The purpose of this event is to get family together," said Trinidad. "[As a school], our goal is to become more sustainable [financially.]"
Coming up this year, Kualapu`u School will host a Turkey Rainbow Run, a parent wine tasting event, and a 100K bike race.