Fun-draising
Aka`ula School held its annual auction and dinner event last weekend.
A butchered steer, a year of bliss and a Caribbean living room are just a few of the many prizes that were up for bidding last weekend at Aka`ula School's biggest fundraiser of the year. The event, Ku Ka Lau Lama, was held at Paddler's Inn and featured a full buffet meal along with silent and live auctions.
As one of Molokai's only private schools, making ends meet is always a challenge for Aka`ula and the annual dinner auction provides a huge help to the school and the community.
"This event will probably take care of a month to two months of operating expenses. It's a big chunk; it's not the only chunk, but it's a huge chunk," said head of school Vicki Newberry.
Guests mingled around tables of silent auction items, bid on larger rewards like an electric bike, massage packages, and vacation get-aways during a live auction, and enjoyed a buffet style dinner.
Newberry credited the students' parents for their determination and hard work that make the event possible. This was the sixth year for the event, which returned to its original location at Paddler's.
The students themselves also pitched in a helping hand by serving food and doing other jobs during the event. Seventh-grader Alex Gilliland, who acted as a part time emcee for the silent auction, said she was happy to help out because it was an important night.
"This event helps us a lot with our fundraising," Gilliland said. "It allows a lot of us to come to school here that wouldn't otherwise be able to pay the full way."
Each of the event's 200 attendees received a personal note at dinner from one of the school's students thanking them for their support and explaining why Aka`ula was important.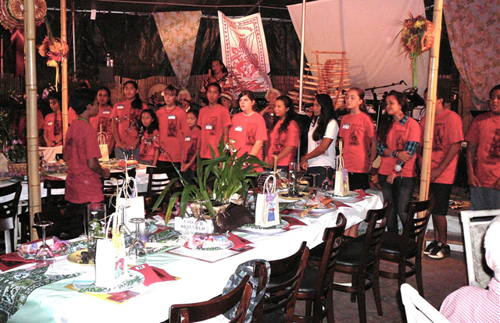 The school is made up of roughly 60 students in fifth through eighth grades. They were originally located in Kaunakakai at what is now Molokai Pizza Café until last December when they relocated to Kualapuu Center.
"I like going to school here because we meet new friends from all over. It's fun because the older students hang with younger students and everyone gets along," eighth-grader Heather Place said.
Newberry said having a peaceful campus has been one of their biggest principles since the school started. The students appreciate the welcoming atmosphere which gives them more opportunities to do the things they love.
"I think we get more chances to do interesting things than other schools," said Pono Chow, an eigth-grader and the song conductor for the school's choir. He and his classmates led off last weekend's fundraiser with a few songs.
They were followed by jazz artists Mehana Suza and Starbird as well as Hawaiian music performers Na Ohana Hoaloha. Na Ohana, a local band, used the event to release their first ever DVD which was on sale throughout the night.
Newberry said she did not yet know how much money was raised by the event, but was certain that the school surpassed its goals for the night and will be able to operate for the next few months based on the money they made last weekend.