Full Throttle Basketball
The 2010 molokai menehune basketball champs, 'we goin full throttle," went to Maui on March 4-7 to play in the menehune tournament and played four awesome games.
Coach Ron Rapanot Sr. and assistant coach Scot Rapanot Sr. took only seven players: David Rapanot, Noah Caparida, Kilo Gonzales, Rayden McCutcheon, Likehe Shonley, Jarvin Namauu and Kamekona Pelekani. Several comments were made in Maui that they would call themselves the Super 7 Kids, because of the way they played.
We were the only team that had seven players while the rest of the teams that they played against had 12-15 players. Their first game played against Kahului Bays, and lost 29-31, because the referees called 18 fouls to Molokai and Kahului only had four. Our boys left robbed and really disappointed, but they lifted their spirits and surly did not let those officials keep them down for like their team shirts says, "we goin' full throttle" and believe me, they did exactly that.
The second game was played against Kihei I, and again they played hard with seven of our boys against 12. This time we came on top with 41 points and Kihei 38. David had 22 points, Noah 13, Kalei two, Keke had two and Brayden had two points.
Even at this point, our boys had more speed and condition, out ran and surely out smarted a lot of plays with determination to win and show them what Molokai is made of.
The third game was played against Kihei II, and Molokai came on top with 35 points and Kihei 31. The final fourth game against Pukalani, molokai won 36 to Pukalani 27.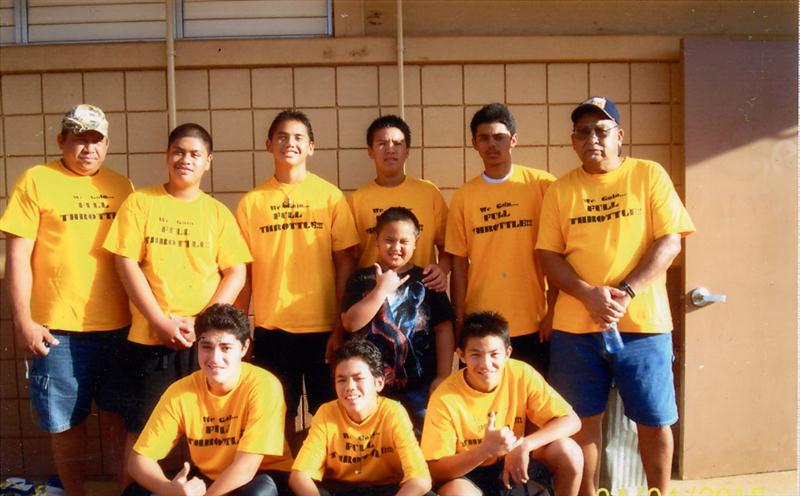 Special clinics should be set up for referee training, especially for the younger and 13-14 year group tournaments. It should be fun and exciting for the teenagers to participate and not have to wonder if the referees are going to call the games again. All in all, the team enjoyed themselves, took the consolation bracket and represented Molokai proudly.
So the Maui County, Molokai district superiors Mike Salas, recreation technician Gerard Starkey, and Ryoko Victorino thank you for making it possible for us to participate in Maui. To the county of Maui – a special thanks to Aunty Jackie for seeing that we were comfortable and allowing us to stay in the wrestling room and using the facilities.
Mahalo! Last but not least, we would like to send a special thanks to Catlin Kaahanui for helping us with transportation and lunch.
Gladys Rapanot