Fuel Costs Rising, Worse to Come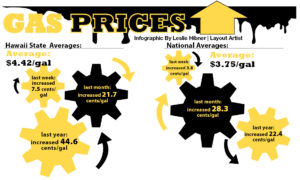 Molokai residents are used to some of the highest gas prices in the nation. But with an overnight jump of 25 cents last week – reaching $5.36 for regular unleaded – even locals were left in disbelief. While Molokai has seen higher prices before, experts predict record-breaking highs in gas prices by summer of this year.
In 2008, the Dispatch investigated just why oil prices were so much higher on Molokai than other parts of the state or nation. The conclusion was a combination of factors – first, supply-and-demand economics dictates that less consumption requires higher prices to turn a profit. Because Molokai is indeed a small market, consuming less gas than larger cities, it drives the cost up for filling station owners to make a profit. Second, because oil distributors – in Molokai's case, Island Petroleum – change their prices with each new fuel shipment, higher prices stay around longer on Molokai because we consume gas at a slower rate.
"It is high but what can you say?" said Kaunakakai Chevron owner Shirley Rawlins. "The oil company passes it on [to us] and it's happening all over the nation, not just on Molokai. The fortunate part is that people live close by and it is a small island."
The national average has increased 28.3 cents per gallon during the last month and stands 22.4 cents per gallon higher than this day one year ago, according to GasBuddy.com. In Hawaii, the average price of gas has increased 21.7 cents per gallon in the last month and stands 44.6 cents per gallon higher than the same day one year ago.
Experts predict that the worst is yet to come. "With a likely peak in gasoline prices still as much as two or more months away, the national average for a gallon of gasoline has already hit the bottom of the range that we projected back in January in our 2012 gasoline price forecast, which is quite concerning," said GasBuddy.com Senior Petroleum Analyst Patrick DeHaan.
While most residents are not thrilled about the jump in gas prices, they are coping however they can.
"People understand because they watch the news. I don't set the prices," said Hayaku Gas and Go co-owner Eddie Medeiros.
In the meantime, Molokai residents are finding creative ways to save on gas. From carpooling with neighbors to taking the MEO bus to riding horses to work, motorists are finding creative ways to save.
"My wife and I consolidate our trips. I just dropped her off at Hula class and now I'm running errands while waiting for her," said motorist Frank Parrino.
Seeing the numbers on the pump keep climbing, he sighed, "We can all cut back."