Fruits of Their Labor
Coffees of Hawaii expands coffee into a tea.
If you have ever tasted the generic Pinesol-tasting lemon tea found in hotel rooms, a new tea to Molokai will leave you feeling spoiled.
Coffees of Hawaii has created their first original tea, made from the fruit of their coffee plants and blended with flowers and herbs. This kind of tea is called a tisane (pronounced ti-zane), an herbal fusion of different flowers and herbs. This particular infusion is only produced on Molokai, and uses only Hawaiian-grown products – most of which is found on Friendly Isle.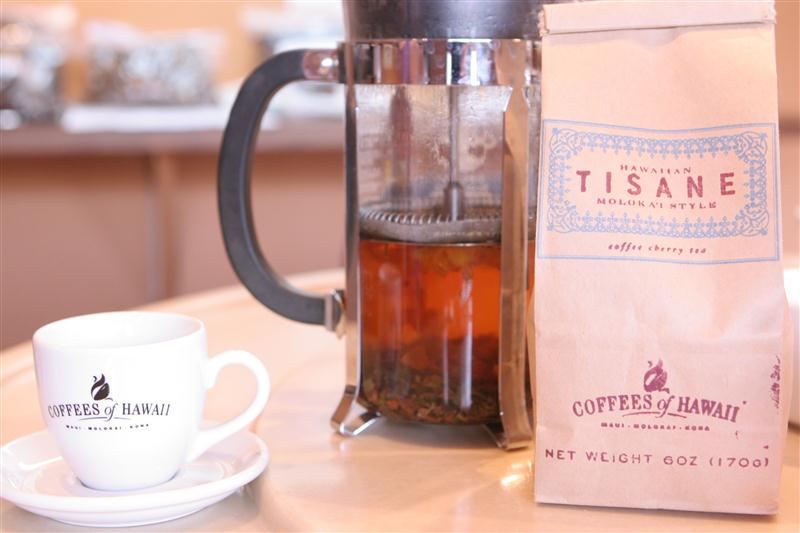 "Tisane: Molokai style," reduces the company's waste by reusing the pulp as a profitable product, and adds another, more mellow dimension to the company, said Ford. Since coffee is a highly "amped" drink, there is another market that Coffees wished to reach with a less caffeinated product.
"Mocha Mamas keep us in business," Holmes said. "But this is a better choice, a healthy alternative, for the kupuna and those that don't drink coffee."
The tea blends were also chosen for their specific health benefits.
"This community to me seems to be increasingly more active and health conscious. This is an excellent way to support any dietary or lifestyle change," Ford said.
The original tisane and its five blends is already available to order through their website, http://www.coffeesofhawaii.com/, will be hitting Coffees' retail shelves around the holidays and will soon be sold in other shops around the island.
Molokai's Tisane Choices
Cherry ambrosia: a completely new interpretation of coffee. Several times the antioxidant power of blueberries.
Jasmine Blossom Green Tea: coffee cherry, jasmine blossoms (strong antibacterial, antiviral, and anti-tumor properties), green tea (boosts metabolism).
Lavender Tisane: coffee cherry, lavender blossoms (antiseptic, anti-bacterial, anti-fungal, anti-inflammatory, anti-convulsive, and anti-depressant properties).
Lemongrass Tisane: coffee cherry, lemongrass (relieves fever, flu, headaches, intestinal irritations; detoxifies liver and the digestive tract).
Mamaki Ginger Tisane: coffee cherry, mamaki leaf (reduces cholesterol, cleanses toxins from the blood), ginger root (cold remedy, also used by native Hawaiians; promotes energy circulation and increases metabolic rate, relieves cold skin, hands & feet).
Papaya Leaf Vanilla Tisane: coffee cherry, papaya leaf (relieves heartburn, indigestion; wheat gluten (good for people with Celiac disease), vanilla bean (aromatherapeutic: reduces stress, helps headaches, improves mood, relieves depression; calming to queasy stomach).
(Except for green tea from Japan, all ingredients are Molokai- or Hawaii-grown.)