Fruit Growers Featured Farmer
HTFG Molokai Chapter News Release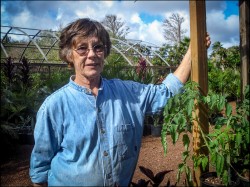 Hawaii Tropical Fruit Growers (HTFG) is a statewide nonprofit organization, dedicated to tropical fruit research, education, marketing and promotion. The Molokai Chapter is made up of members that are gardeners, farmers and interested community members who meet monthly to share ideas about promoting products, skills and agricultural opportunities. Meetings are held the first Monday evening of every month at Lanikeha Center, Ho`olehua. The next meeting is Feb. 3 at 5:30 p.m.
This month's featured farmer is HTFG's member Nannette Walters. She is the delightful face of Mahana Gardens in Ho`olehua who commits her support to commercial producers for the return of Molokai to become the bread basket of the islands and for Molokai residents to restore functional, edible gardens to feed their families.
Exotic tropical fruit trees are Nan's passion. She has a growing collection of dragon fruit, longon, lychee, cherimoya, limes, lemons and cashew trees. Hundreds of mango and avocado root stocks are waiting to be grafted when suitable "mates" are found and ready. Proliferating the island with fruit trees will encourage Molokai to be generationally sustainable from seedling to harvest to value added products.
Mahana Gardens, established in 2010 by Merle "Dusty" Dancy, uses 15 acres of the westside Pala`au Ahupua`a to serve the community as an agricultural / commercial incubator for start-up businesses such as Trees of Molokai, Kapuni Farms, Barking Deer Farms, Mo Bettah Car Rentals, Molokai Heritage Products and Dusty's Repairs. Mahana Gardens has multi-use buildings that host educational, cultural and performing arts venues.
Every Monday, wonderful community volunteers are greeted by Nan at Mahana Gardens for a work day. Helping hands have cleared fields, enhanced the general ambiance of the entranceway, propagated flowers and papayas, grafted fruit trees, repaired the roof, built display tables and created a cascading rock garden. The team prepares the greenhouse to be appealing and ready for customers, Wednesday through Saturday's 8 a.m. to 5 p.m.