From Garden to Pizza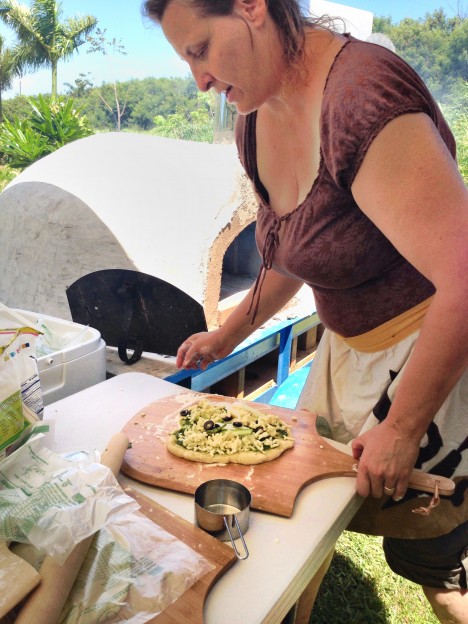 At Sust`ainable Molokai's permaculture farm in Ho`olehua, there's a time to sow and there's a time to reap the harvest.
There's also a time to craft and eat homemade, baked and garden-fresh pizza fresh out of a traditional pizza oven.
"This is really how to get kids and others to enjoy eating what they grow," said Emillia Noordhoek, executive director of Sust`ainable Molokai, a local nonprofit that works with the community to find modern strategies for sustainability while respecting cultural traditions.
Last Saturday morning, smoke billowed from the Forno Bravo pizza oven's opening for the first time ever. The oven was stuffed with delicious handmade pizzas with ingredients straight from the farm. Made of clay, the mobile, domed-shaped, wood-fired pizza oven was introduced to the Molokai High School farm, thanks to a grant written by Noordhoek from Friends of Hawaii Charities. The charity organization generates funding for Hawaii nonprofits that benefit women, children, youth and needy programs.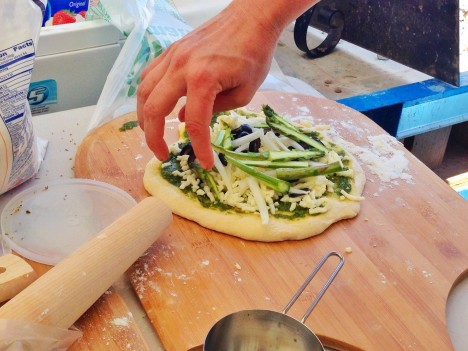 Once a month during the school year, Sust`ainable Molokai hosts a community workday for community members to come out to the farm, put in garden work and learn the rewards of eating and growing local. This time around, volunteers joined in on a make-your-own pizza potluck lunch for the last community workday of the year. Volunteers brought an array of ingredients — many picked fresh from the garden site — to put upon their pizzas, and Sust`ainable Molokai supplied the dough.
"People can come on the workday and every once in a while the [pizza oven] will be out there for everyone to enjoy," Noordhoek said. "Especially with the kids so that they can figure out how fun it is to eat kale, asparagus and eat healthy."
With gardening gloves on hand, volunteers helped tend the land and planted a breadfruit tree, while others went on a tour of the gardens and learned about harvesting through the seasons.
"The experience is wonderful. The tour, getting to know the science of the land and to be able to see the fruits of the land," said Pualani Akaka, a fourth grade teacher at Kualapu`u School. "It was a terrific project and a picture-perfect garden and delicious pizza."
Akaka said she plans to bring her students to the garden for a field trip next year.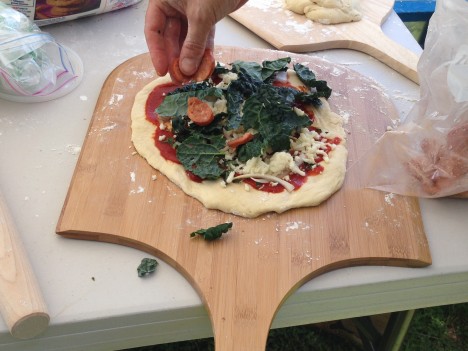 Noordhoek said she wants more schools to be able to come to the garden. She said that is why a trailer was purchased to transport the pizza oven, making it fully portable. At the start of next school year, she said she plans to bring the oven out for the first community workday and will also use it to fundraise. On July 5, Sust`ainable Molokai will attended the MOM Hui's second annual Grassroots Benefit Concert to sell pizzas made to order.
The workday gathering included community members, their ohana and FoodCorps and AmeriCorps VISTA service members, both national programs working locally under Sust`ainable Molokai. The objective is to teach others how to cook what is grown locally in a garden and ultimately move towards becoming a more sustainable community, said Fred Richardson, Sust`ainable Molokai's school garden coordinator.
"Basically the concept is that you have a community garden where people get together and see how they can start one of their own," Richardson said. "This [garden] is a working model. You collaborate; everybody works first on site and then harvest."
Richardson said community gardens have been fundamentally designed in this way to get the community more involved with gardening. He said the goal is to help educate and encourage healthy eating habits throughout the community. A way to achieve this is by allowing volunteers to take young seedlings, sprouts or leaves from the garden home to plant.