Friendly Isle Funds
Apart from the film festival, Molokai was by no means left off the county budget for projects ranging from parks to water supply.
Molokai will be receiving $1.6 million for Capital Improvement Projects (CIP) through the fiscal year 2011-2012, which accounts for 1 percent of the total CIP county budget, according to the county budget.
Its main projects consist of water source improvements at $1 million; Kaunakakai's drainage system improvements at $200,000; Ualapue tank and piping upgrades and improvements to the Kaunakakai-Kawela well at $150,000; Mitchell Pauole Center improvements at $130,000; and additional parking to Duke Maliu Field at $50,000.
The budget also included the six-year CIP plan that will amount to $26 million in projects. Molokai will see its Senior Center expanded, Kaunakakai Gym improved, a playground added to One Ali`i Park, an additional landfill and recycling center improvements and public safety radio system replacements, among others.
Local organizations and programs also received monies for the upcoming fiscal year, but many received the same amount or less than previous years.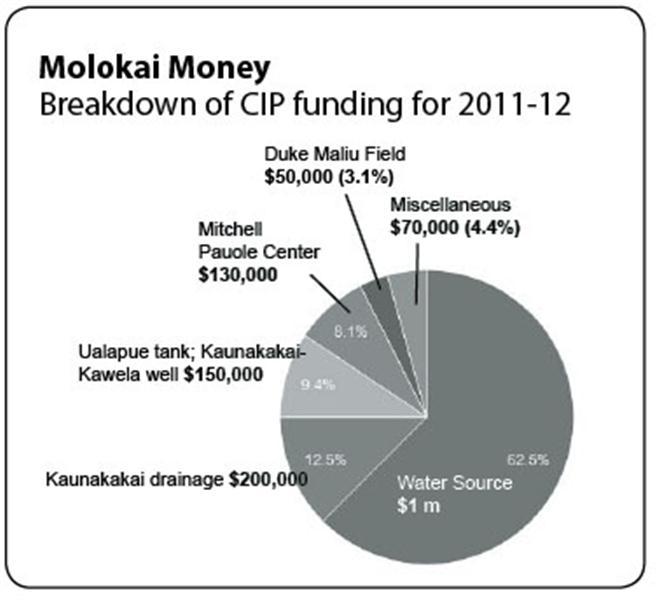 Maui Economic Opportunity (MEO)'s Molokai summer program will receive $27,300, the same amount as last fiscal year; the Livestock Cooperative received $27,000, less than last year; the Molokai Economic Development and Cultural Program received $82,900, $38,000 less than last year; and Molokai's soil and water conservation districts received $10,000, the same as the previous three years.
The budget also included a review of the Molokai Community Plan, which is projected to be 80 percent completed during fiscal year 2011-12. The budget said the plan is 50 percent compete at the end of this fiscal year.
The planning department also reported it completed is pre-final draft of the Cultural Resource Survey for Maui County, which identified for potential historic districts on Molokai.
To view the Maui County budget, visit their website at co.maui.hi.us, under the Mayor's page.