Footsteps For Football
There hasn't been a high school football game on Molokai since 1961, but the possibility of ending that streak took a small leap towards reality last month. Mike Kahale, a physical education teacher at Kualapu`u School, recently received a $2,000 grant to purchase football equipment.
Kahale, who has been working to create a high school football team since moving to Molokai five years ago, said the grant from USA Football was a step in the right direction.
"It's a huge step," he said. "Getting the equipment was one of our biggest obstacles and the fact that we got it from a nationally recognized organization shows we are willing to look to outside sources to get this done."
Kahale and his wife, Nichol Helm Kahale, presented a strategic five-year plan to bring football back to Molokai to High School Athletic Director Cami Kimball last year.
"We sat down at the beginning of the year last year and talked about possibly bringing it back to the school," Kimball said. "It's on our backburner, but I don't want to give the impression that we will have a team next year."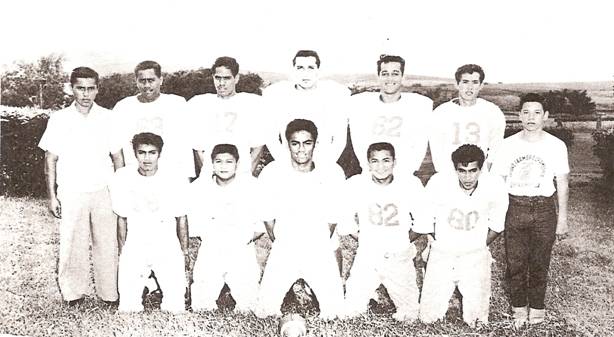 The cost of high school football is exponentially higher than most other sports and a good deal of money would still need to be raised to help pay for travel costs, field maintenance and additional equipment.
Starting a football program seems even more daunting as it comes on the coattails of major budget cuts for high school sports across the state. Supporters of the program will be looking to other outside businesses and organizations to help with funding.
Kahale said Molokai's most famous football player, Kimo "Scooby" Von Oelhoffen, has offered to help fund the program, but the two have yet to discuss actual dollars and cents. Von Oelhoffen played football at University of Hawaii and Boise State before starting a 15-year NFL career, despite never getting the chance to play in high school.
Crazy Eights
The $100,000-plus price tag that comes with a traditional football team is a stretch at this point, but that doesn't mean the sport can't exist at all. In the past year, some of the Maui Interscholastic League's (MIL) smaller schools have started to look into an eight-man football league.
Eight-man football – rather than traditional 11-man teams — is played in many rural regions on the mainland and allows small schools with small budgets a chance to play football. MIL Executive Director Joe Balangitao and St. Anthony's High School Athletic Director Charlie Pico have been working to develop such a league for Maui County's smaller schools.
"An eight player league is way more suitable for us," Kimball said. "There is no way we can do a regular league. For us to send that many players every will is just not a possibility."
Kahale said they still hope to establish a full team in the future, but see the possibility of an eight-man team as good progress.
"It's not exactly what we wanted, but right now it's either eight-man or nothing and it is definitely better than nothing," he said.

Moving Forward
Kahale said the next step is to inform other possible contributors and Balangitao about the new grant. The MIL requires commitments from only three schools to sanction a league.
"We just have to let everyone know we are headed in the right direction and get our plan into the hands of people who can help us raise the money we need," Kahale said. "We should be afforded every opportunity that every other high school has in Maui County. Our kids deserve it."