Food Producer Training
Maui Culinary Academy and Hawaii Master Food Preservers News Release
A hands-on training program designed to explore value-added food production to support the skills necessary for a career in the food manufacturing industry. The Value-Added Food Production Cohort Training (VAFP) will engage participants in the development of specialty, niche food products to realize economic gains utilizing Molokai grown produce and farm products as a way to create more competitive "shelf ready" foods  through value-adding. This is valuable training for farmers, food distributors and others in the "farm-to-table" food chain.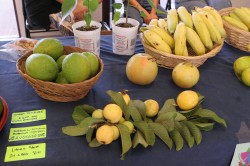 "Adding value to crops by processing brings more money to the island and in the pocket of Molokai farmers," said Glenn Teves, a University of Hawaii Molokai extension agent.  "Processing also creates additional jobs in and near the farming community. Value added processing is only limited by the imagination of farmers."
The training series is instructed by Ken Love, a University of California Cooperative Extension Master Food Preserver. Courses will be held on Saturdays between May 25 and July 13 from 8 a.m. to 5 p.m. at the University of Hawaii Molokai Education Center and Hale Maha`olu's Home Pumehana Kitchen.
All participants will be updated in the latest principles and procedures of food manufacturing including such areas as proper food handling and sanitation, knife skills, basic food science, food fermentation, jelly and jam production, pressure canning, meat curing and food preservation in a professional kitchen setting. The course will also discuss career and employment opportunities within the food manufacturing industry.
The Nationwide Master Food Preserver (MFP) certification program is imbedded within the VAFD Training as a way to foster home canning and food preservation practices. There are three main areas that the Hawaii Master Food Preservers program covers. Food safety teaches the safe way to preserve locally grown produce and proteins like fish and meats food security and value-added product development and marketing. The second area, food security, covers how to safely can and preserve foods so we are prepared for emergencies. The value-added product development and marketing section gives insights to develop value added products to sell at farmers markets and over the Internet. This is only the third time the program has been offered in Hawaii, according to Love.
Attendance of all classes is mandatory to achieve certification. Space is limited, so reserve your spot as soon as possible.
The training series is offered free of charge to participants, funded entirely through the U.S. Department of Labor through the Rural Development Project, in the amount of $76,964. Auxiliary aids and services are available to upon request to individuals with disabilities.
To enroll in this training, call Cameron Hiro at 658-0433, or email at heart@sandwichisles.net.