Food for the Forsaken
St. Damien Parish hosts Thanksgiving food drive.
Loaded up in coolers and boxes, then into trucks and cars, 500 meals full of Thanksgiving food and well-wishes were given out to those spending the holiday alone by St. Damien Parish on Thanksgiving Day.
Over 50 volunteers gave up their time to package cornbread, peas, mashed potatoes, and of course, turkey, that were given to the homeless, the women's shelter, and Home Pumehana – the first large-scale Thanksgiving food drive.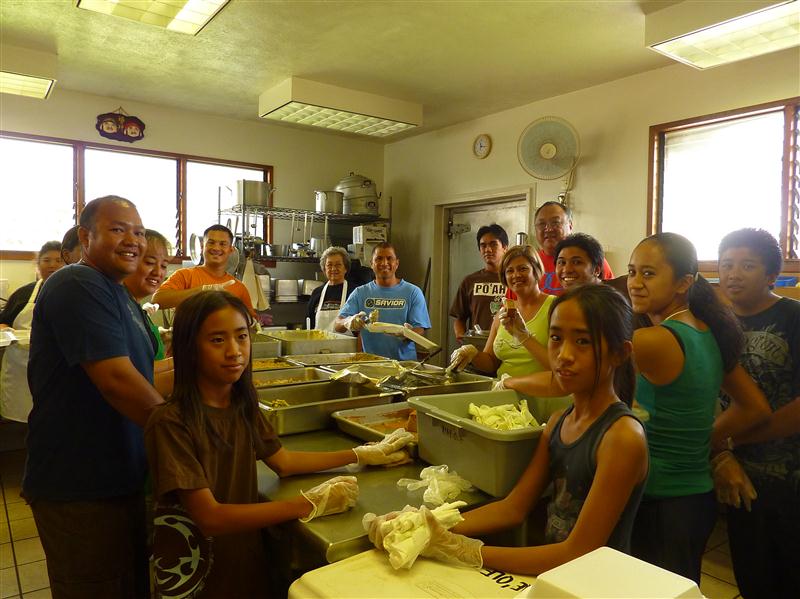 It was a collaborative effort between Leoda and Mike Shizuma; Leoda is the coordinator for the social ministry of the St. Damien Parish, and Mike owns a catering company. He said he had done a similar event several years ago, and felt in a position to give back.
"[We] just wanted to bless a family" with this food, she said.
Luke Santiago, who attends Aka`ula School, said he and his family have been helping with Mike's catering business for a while.
"It's good to give to needy and other people," he said.
The Thanksgiving food drive started last Monday, when the parish received boxes of canned food from Honolulu. She said the donations came from the Catholic churches there, after Bishop Larry Silva made a "plea" to help the people of Molokai who had lost their jobs after Molokai Ranch closed in 2008.
Leoda Shizuma intended to give the boxes away until Wednesday. They ran out on Tuesday.
"People just kept walking in, off the streets," she said. "It got around by word of mouth."
Molokai residents made monetary donations as well, to help purchase food for the Thanksgiving meal.
Carol and Jim Gartland, owners of the Kualapu`u Center, said it was a quiet day for them with no other family on the island, and they thought it was the right thing to do to volunteer their time driving the food to its destinations.
In such a close community, but without a food pantry or a soup kitchen, Leoda Shizuma said this is a small start to help the "homebound."
"I think some people have no sense that [homelessness] can happen," she said. "This [event] is a model to others to join the effort."