Food and Fellowship
Community gathers for a weekly free meal.
Every Monday night, several families and kids from the Molokai Youth Center make their way to Kaunakakai Baptist Church. The big lawn, swing set, and most of all, fried rice, spaghetti and hamburgers draw them in.
The church hosts Aloha Night for any community member who wants or needs a free meal on Monday nights, and recently celebrated their 10th year of sharing.
"[We] let the community know this is a safe place they can come, have something for eat and talk story," said Frank Lawelawe, one of the event's founding members.
The church gets anywhere from 30 to 140 people at the weekly event, starting around 6 p.m. Lawelawe said the church allocates around $8,000 a year for Aloha Night, but they also receive a lot of donations –fish, deer, utensils and help cooking and cleaning up.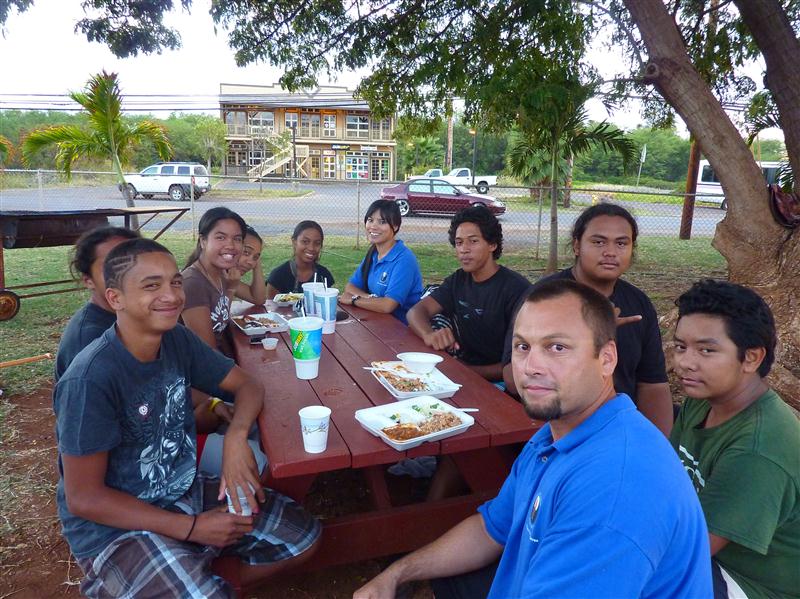 "Every Monday is a combination of kitchen impossible and dinner with Jesus," said volunteer Scott Schaefer.

Healing Partnerships
Former Pastor Paul Cantrell began Aloha Night in 2001, and Lawelawe was there from the beginning. He started volunteering with the church when he began his drug recovery, and now works as a substance abuse counselor at Ka Hale Pomaika`i, a rehab center on the east end.
"Before, I was poisoning the community," he said. "I was selling drugs through people, now I'm giving back to the people."
Lawelawe, now 13 years sober, is the main cook for Aloha Night, but is training more volunteers to help while he works at the rehab center and goes to school for his associate's degree, to become a certified counselor.
Kenneth Takenoushi, who has also been volunteering his time since Aloha Night began, said a dinner at the beginning of the week is a big help to families.
"If you're new and don't know anybody, this is a good place if you need help," he added.
The church members and volunteers also have the help of the Molokai Youth Center. Kids from the youth center come down for some community service – helping clean up afterward – as well as play with the younger kids. Travis Ritte and Alii Kaholokula are youth specialists, and leaders of the center's leadership groups, Na Ki`a Ku Pono and
Mana Wahine.
"We appreciate this place so much," Ritte said. "There're not too many places to go to service the community…in a pleasant, safe atmosphere."

Lawelawe would like to thank Kaunakakai Baptist Church, the Molokai Youth Center, Ka Hale Pomaika`i, and Queen Lili`uokalani Children's Center for all their support of Aloha Night.