Flourishing Farmers
MHS celebrates the Class of 2011.
The Molokai High Class of 2011 stood together for the last time in the Barn last Saturday, commemorating their past four years and facing the future that lies ahead of them as graduates.
Cheers of support and an occasional blow horn from proud parents and teachers filled the gym as the 75 grinning graduates filed onto center stage. As class president Ka`oli Place stated in his message, the "kolohe class" was coming to an end but their legacy was just beginning.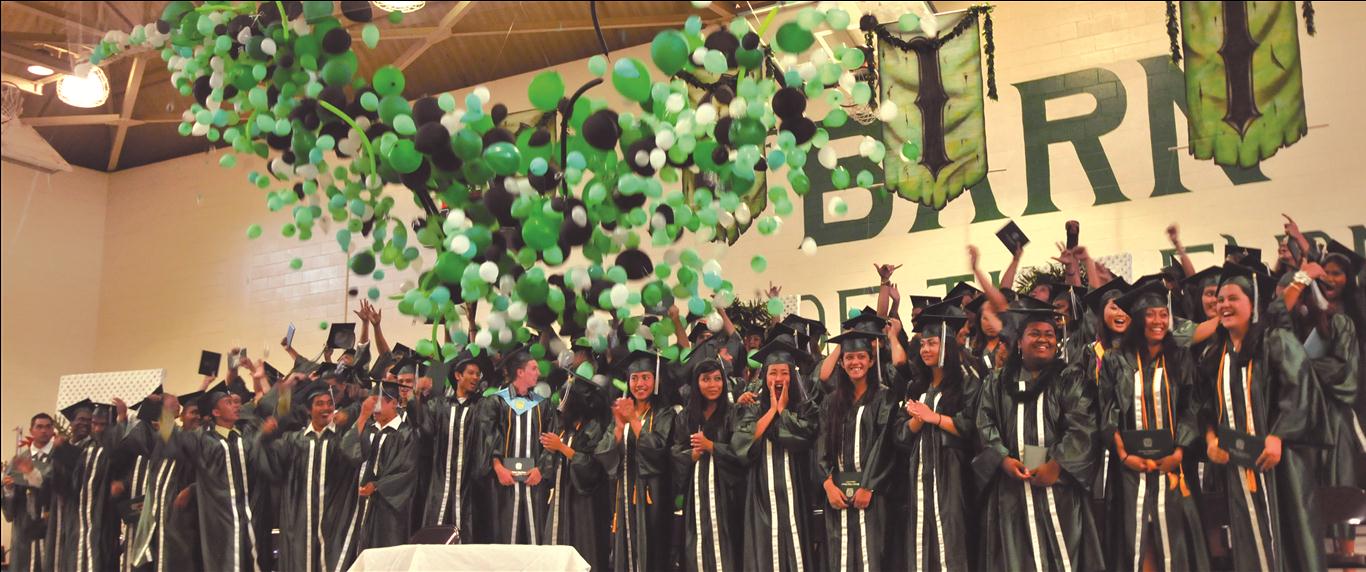 And while acknowledgments of hard work and success were warmly accepted by the graduates throughout the day, they extended their share of gratitude and appreciation to loved ones who made this day possible. Waving banners and gesturing toward audience members, the seniors thanked their ohana, school faculty and staff and friends for their continual support and helping them reach their high school achievements.
After the ceremony, graduate Nainoa Macadangdang reflected on the day's events and his experience at MHS.
"After all this hard work and stress I've been through, it feels really good," he said. I'll remember spending this day with my friends, mostly my boys. And I'm looking forward to a bright future."

Show Me the Money – Scholarship Awards
Chelsea Sakamoto: $6,500; Friendly Market, Hotel Molokai, Rotary Club of Lahaina, Star-Advertiser Citizenship and Hung Wo and Elizabeth Lau Ching Foundation Award
Kawena Puhi: $6,500; Hali`a Aloha, Maui Scottish Rite of Freemasonry, Foodland, Hung Wo and Elizabeth Lau Ching Foundation Award
Crystalene Antonio: $4,900; Hali`a Aloha, Pat Kawano Scholarship, Hung Wo and Hung Wo and Elizabeth Lau Ching Foundation Award
Kailana Ritte-Camara: $2,900; Friends of Molokai High, Hali`a Aloha, Yola Meyer Forbes and Molokai Lions Club
Kesha Leah Reyes: $2,400; Friendly Market, Hali`a Aloha, Pat Kawano Scholarship, Molokai Community FCU, and Hung Wo and Hung Wo and Elizabeth Lau Ching Foundation Award